Study Medical Science in Hindi: Revolutionary step taken by Indian Government as Amit Shah inaugurates Hindi Books for Medical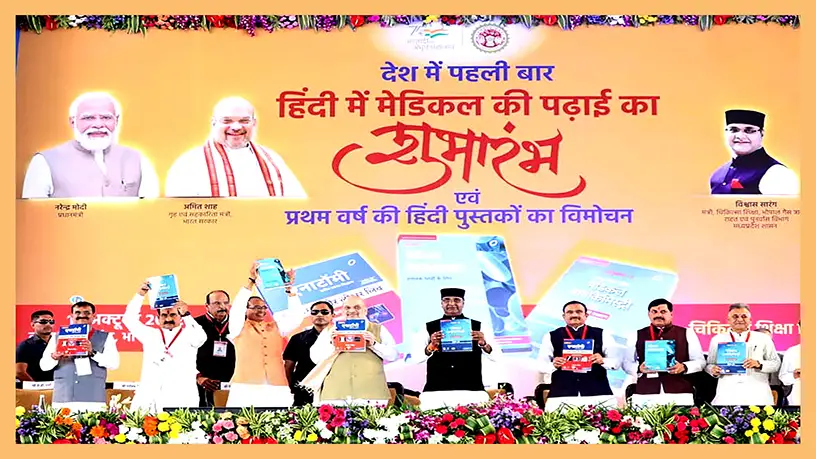 Updated:October 17, 2022, 7 months
Madhya Pradesh became the first state in India to start medical education in Hindi by releasing three medical science textbooks in the Hindi language. The Union Home Minister, Amit Shah, was present at the event, which happened on 16th October at Lal Parade ground. The Minister of Medical Education, Vishvas Sarang, and MP Chief Minister Shivraj Singh Chouhan were also present at the event.
According to Mr. Shah, efforts are being made to begin technical and medical education in eight additional national languages. According to him, the MBBS program will soon be offered in other languages as well. The Hindi program was started as part of the National Education Policy (NEP-2020).
Hindi versions of textbooks for all three subjects of the first year, Anatomy, Physiology, and Biochemistry, are now available for the students. For the past 232 days, a group of 97 experts have been working at Gandhi Medical College in Bhopal to prepare books. The book has been translated into Hindi from English.
Mr. Chauhan believes that this step will help the middle-class, poor, and tribal students who do not have exposure to English and who have to face an extra barrier in completing such professional and technical courses.
Amit Shah brought to mind the ideas of the great Mahatma Gandhi and Nelson Mandela, who emphasized the value of offering students an education in regional languages in order to hasten the eradication of poverty and illiteracy. He also believes in the fact that there is no relation between the language and intellectual abilities of the students.
On Sunday, Prime Minister Narendra Modi stated that the introduction of medical education in Hindi will result in a significant improvement for the nation. He claimed that lakhs of students would be able to study in their own language in their own country and that many new opportunities would become available to them.