NAAC Parameter Scores for Grading Colleges Aren't a Secret Anymore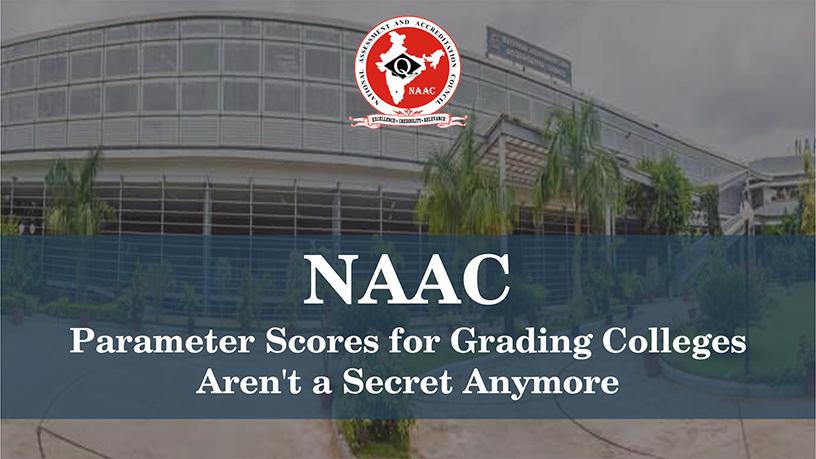 Updated:November 15, 2022, 7 months
The National Assessment and Accreditation Council (NAAC), which had long kept the details of its grading scale secret, has now made the decision to divulge them. The highest grades each college receives will be made public. For the first time, it will announce the highest marks, or benchmarks in NAAC terminology, that it has reserved for each of the criteria it uses to grade colleges.
Numerous inquiries about faculty, facilities, and academic and administrative procedures are made of colleges, such as how many Ph.D. faculty members are employed, how many students are enrolled, how many computers are available, and how many books are kept in the library. There is a top score for each question that has been asked, and it has been kept a secret for years. This score will now be made public by NAAC, allowing institutions to intensify their efforts and raise their targets.
Marking System
In general, NAAC grades colleges using a scale of 4,000 points, which is then scaled down to 4 or less depending on the total marks, before the CGPA (cumulative grade point average) and final grade, ranging from A++ to C (being the lowest), are announced, according to the organization's soon-to-be-released disclosure. Grade D is given to the colleges that are not accredited by the NAAC.
In the document on the grading system that NAAC has made available, it is stated that for institutions that meet the requirements for a grade, the CGPA is computed after assessment.
It is stated that the evaluation is conducted using the predetermined NAAC "benchmarks," which are then converted into CGPA. The "benchmarks" used to evaluate colleges are never made public, though.
To increase transparency and encourage colleges to raise their scores, it has been decided to reveal the marking.