NEET PG 2023: Supreme Court to Hear Demand for Postponement of the Exam, Check Latest Updates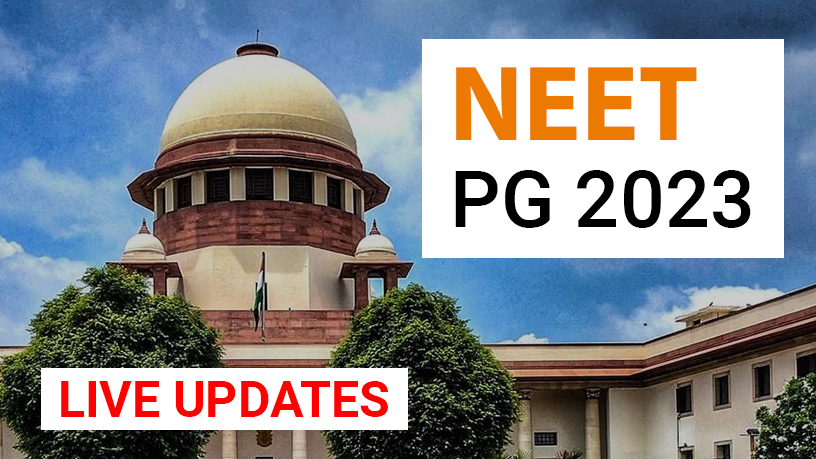 Updated: February 24, 2023, 04:39 PM IST
NEET PG 2023 Postpone: Today, February 24, 2023, the Supreme Court will hear a petition asking for the NEET PG 2023 deadline to be postponed. The date for NEET PG 2023 is March 5, 2023. A petition asking for the postponement of the post-graduate medical examination has been filed by doctors who plan to take the NEET PG 2023 exam. A bench of Justices Ravindra Bhat and Dipankar Datta set the petition's hearing as Item 53. Senior Advocate Vivek Thankha will represent the petitioners, who are the subjects of the two writ petitions Advocate Tanvi Dubey filed.
Also Read: Top 40 Architecture Colleges (Pvt.) in India 2023
The NEET PG 2023 exam will be held to determine admission to different MD/MS and PG Diploma programs. On February 27, the admissions card will be released, and on March 31, the results will be made public. The Supreme Court hearing that is happening today will decide the fate of students appearing in the NEET PG exam.
Also Read: Top 30 Architecture Colleges (Govt) in India 2023
The deadline for applying for internships in 2023 under the NEET PG program has recently been extended by the National Board of Examinations in Medical Sciences (NBEMS) to June 30, 2023.
According to the petition, candidates from many states approached the NBE after the internship cut-off date was extended to ask for a further extension of the cut-off date and a postponement of the exam because more than 13,000 candidates were still ineligible. But after getting no response from the NBE, the candidates decided to exercise their legal rights and choices.
Also Read: Top 40 Private Design Colleges in India 2023
Telangana High Court Denies Objections
The Telangana High Court had previously received a petition from some protesting students asking for the NEET-PG 2023 exam to be postponed. The National Board of Examinations (NBE) should think twice before changing the date of the medical entrance exam to relieve NEET aspirants, the Telangana High Court noted after hearing the case.
Why Do Students Protest?
According to the protesting students, if the exam is given in March and the counseling is held in August, they won't have enough time to apply for jobs or study if the dates are changed. In contrast, they will have more time to study if the test is postponed.
Also Read: Top 30 Design Schools ( Govt.) in India 2023
Mansukh Mandaviya on the NEET PG Rescheduled
The NEET-PG exam 2023 will take place on March 5, 2023, as scheduled, according to Union Minister of Health and Family Welfare Mansukh Mandaviya's statement to the Parliament earlier this month. He stated, "Students who had to appear for the exam have been preparing for it already." The exam date is March 5, as announced five months ago.