NBEMS Fellowship Exit Examination 2022: Registration Begins, Steps to Apply Online, Check Exam Fee, Important Dates, Exam Pattern, and More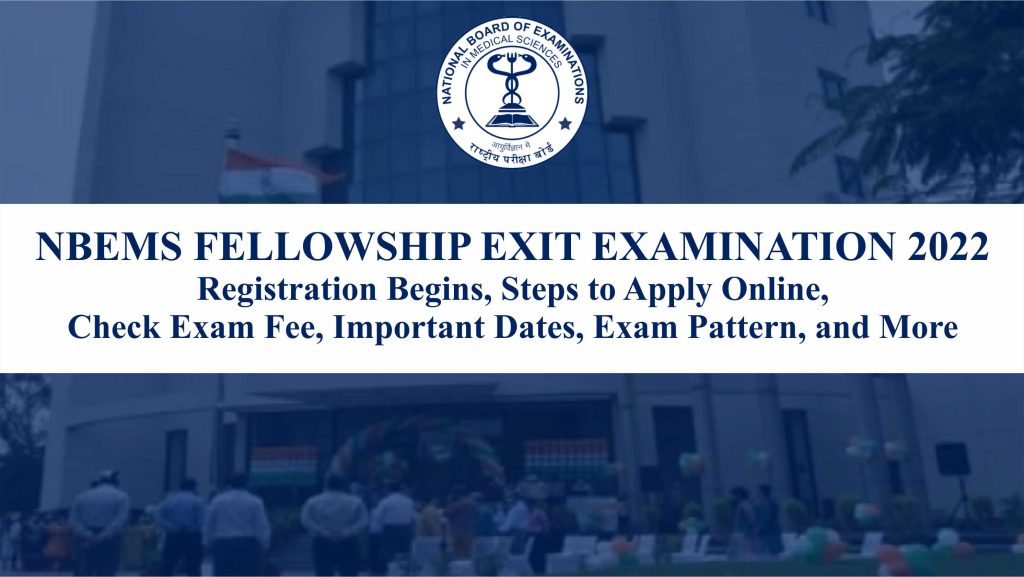 Updated: February 23, 2023, 05:52 PM IST
NBEMS FEE Registration 2022: The National Board of Examinations in Medical Sciences (NBEMS) will oversee the administration of the Fellowship Exit Examination (FEE) 2022, which will occur in March or April of 2023. Interested candidates can fill out the Fellowship Exit application form by visiting the NBEMS website at natboard.edu.in. 14th March 2023 is the last date to apply for the examination. Exam dates and other information can be found here.
Important Dates for the NBEMS FEE 2022:
| | |
| --- | --- |
| Events | Dates |
| Notification Release date | February 22, 2023 |
| Application Form Start Date | February 22, 2023 (4:00 PM Onwards) |
| Last Date to Submit Application Form | March 14, 2023 (Till 11:55 PM) |
| Exam Date | March/April 2023 |
According to NBEMS, the examination date will be either in the last week of March or in the first week of April, and applicants will be informed of the precise date and time of the test via their admit cards on their OEEP accounts. The candidates will have to wait for the release of the admit cards to know about the exact dates of the examination.
Also Read: Top MBA Colleges in India 2023
Exam Pattern for NBEMS FEE 2022
Two papers—one for the theory exam and another for the practical exam—make up the Fellowship Exit Examination 2022. Information regarding both exams is provided below.
| | |
| --- | --- |
| Modes | Exam Pattern |
| Theory Exam | The Theory examination includes one paper with a possible score of 100. The Theory paper consists of 10 brief notes worth 10 points each. The allotted time is three hours. |
| Practical Exam | 300 maximum points. Clinical Examination and Viva are included. Four papers are in the theory exam, each with a maximum score of 100. |
To be eligible for the Fellowship Exit Exam, a candidate must receive an overall score of at least 50%, or 200 out of a possible 400 points (theory and practical), with at least 50% on the theory exam.
Also Read: Top 50 Private Law Colleges in India 2023
Steps to Apply for NBEMS FEE 2022
Step 1: Visit the official website of the NBEMS, which is the NBE.
Step 2: The candidates must click on the examination portal and select Fellowship Exit.
Step 3: The page will be redirected to the application portal.
Step 4: The candidates must first register with their mobile numbers and email IDs.
Step 5: After registration, applicants must log in to fill out the application form.
Step 6: After filling out the application form, applicants must pay the examination fee of Rs. 6,000 online.
Step 7: The applicants must save and print out the confirmation page for future use.
Also Read: Top 40 Govt Law Colleges in India 2023
For any questions, applicants should call the NBEMS Candidate Care Support line at 011-45593000 or send an email to NBEMS at https://exam.natboard.edu.in/communication.php?page=main , which is accessible through the helpline portal after applicant login.