Kerala SSLC Board Result 2023 LIVE Updates: 99.70% Passing Percentage, Download Class 10th Result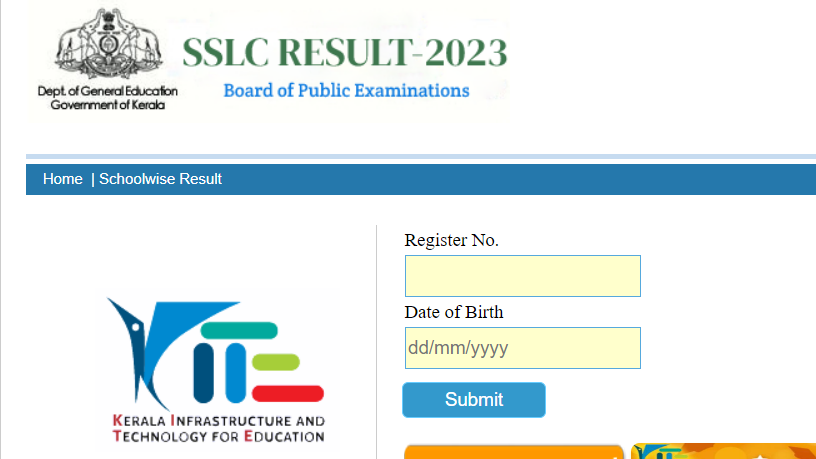 Updated: May 19, 2023, 06:02 PM IST
Kerala SSLC Result 2023: Today, May 19, Kerala Pareeksha Bhavan released the results for the Kerala SSLC 2023 examination. General Education Minister V. Sivankutty made the announcements during a press conference in Thiruvananthapuram. The official website for the Kerala Class X exams, pareekshabhavan.kerala.gov.in, is where students who took the exam can check their results. Previously, May 20 had been set aside to announce the results. The SSLC Result date, though, was advanced by the Board to May 19. Kerala's 10th-grade exams were administered from March 9 to March 29, 2023. Candidates for the Kerala SSLC Exam 2023 totaled over 4.5 lakhs. In addition, the Board provided additional information at the press conference, including the pass percentage and district-specific results. In addition to the official website, SMS and the Saphalam app are other ways to access the results.
Read | Top Universities & Colleges in India 2023: Courses, Disciplines, Specializations, Departments, Entrance Examinations, Admission Process, and Career Scopes
99.70% of Kerala 10th-grade students pass the exam.
Kerala Pareeksha Bhavan has released the Kerala SSLC result 2023. Candidates can access results.kite.kerala.gov.in, pareekshabhavan.kerala.gov.in, sslcexam.kerala.gov.in, and prd.kerala.gov.in to view their 10th-grade results in Kerala. Some other methods to check Kerala SSLC Class 10 Result 2023 are mentioned below.
Steps to check Kerala SSLC Class 10 Result 2023
Via SMS
Step 1: Launch your mobile device's SMS application.
Step 2: After a space, type KERALA10 and then your registration or roll number.
Step 3: Text the number (56263).
Step 4: Your Kerala SSLC result scorecard will be sent to you as soon as possible via text message.
Via Digilocker
Step 1: Go to the Digilocker website, which is located at digilocker.gov.in. You can also use your smartphone to install the Digilocker app.
Step 2: Next, select "sign up" from the menu in the top left corner of the page.
Step 3: Type in the name, category, and six-digit security PIN from your Aadhaar card, as well as a working mobile phone number and email address.
Step 4: Enter your login information.
Step 5: Next, select Kerala SSLC from the list of options under "education."
Step 6: Select the category for the Kerala SSLC 10th exam results 2023.
Step 7: Input the number from your Aadhaar card, and the outcome will be displayed on your screen.
Via mobile app
Step 1: Navigate to your device's app store and use the search function to look for the Saphlam app.
Step 2: Download the app and sign up with the necessary information.
Step 3: Enter your roll number and birthdate.
Step 4: The screen will show your results.