IIT Madras Signed an MoU to Establish a Campus at Zanzibar-Tanzania; Get All the Updates Here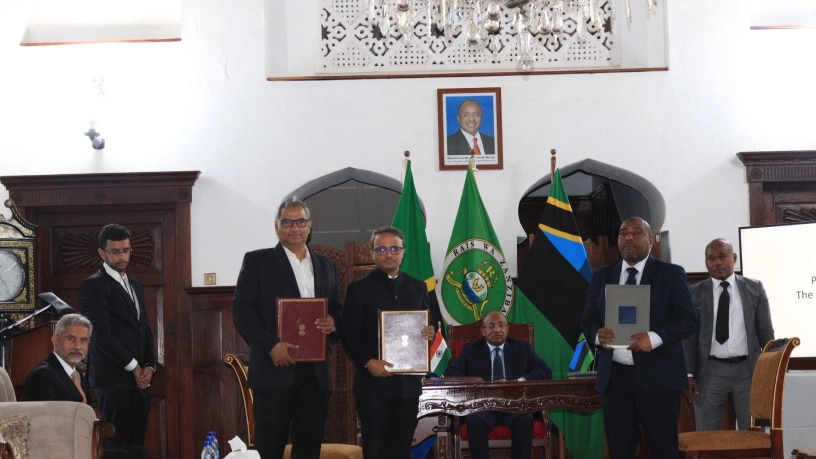 Updated: July 07, 2023, 03:25 PM IST
IIT Madras's Campus Outside India: The first Indian Institute of Technology (IIT) campus outside of India will open in Zanzibar, Tanzania, according to a Ministry of External Affairs statement on Thursday. MEA reported that a Memorandum of Understanding (MoU) has been signed by the Tanzanian Ministry of Education and Vocational Training (MoEVT), IIT Madras, and the Government of India.
Additionally, it was stated that IIT Madras would be in charge of the academic programs, curricula, and student selection aspects. S. Jaishankar, the minister of external affairs, and Hussein Ali Mwinyi, the president of Zanzibar, witnessed the signing of the agreement on Wednesday. Tanzania is the destination of Jaishankar's four-day trip.
The first IIT campus to be established outside of India will be in Zanzibar. This campus serves as a symbol of the long-standing friendship between India and Tanzania. It serves as a reminder of India's commitment to fostering relationships between its citizens and those in other parts of the world, according to the MEA. According to the National Education Policy (NEP) 2020, high-performing Indian universities will be encouraged to open campuses abroad.
Where is Zanzibar located?
At 15 miles from Tanzania's coast in the Indian Ocean, Zanzibar. The Revolutionary Government of Zanzibar, which governs this independent region of Tanzania, is recognized internationally. On the island of Unguja, a city named Zanzibar serves as the capital. Stone Town, the city's historical core, has been designated a World Heritage Site. Zanzibar's three main economic sectors are tourism, raffia, and spices. Black pepper, cinnamon, cloves, and nutmeg are particularly grown on the islands.
The Reason Behind This Government Step
Through this unique partnership, the outstanding educational experience of IITM will be brought to a significant African location to meet the urgent needs of the region. IIT Madras will be in charge of the academic programs, curriculum, aspects of student selection, and pedagogical specifics, with capital and operating expenses being covered by the government of Zanzibar-Tanzania.
The IIT campus in Zanzibar, Tanzania, is envisioned as a top-tier institution of higher learning and research with a broader goal to foster global understanding, support regional research and innovation, and develop capacities in response to changing global requirements. It will serve as a representative example of Indian higher education's inventiveness and aspiration for the rest of the world.
The government established a 16-person committee in 2021 under the leadership of K. Radhakrishnan, chairman of the IIT Council's standing committee, to develop a framework for establishing campuses abroad. The committee strongly advocated for IITs to take the lead in this movement in its report.