Education is a great leveler for humankind and yet education during Covid-19 has suffered the most. People across the globe attach premium importance to education.  But this acquires much greater significance, especially in India, where education serves as the most powerful tool for vertical mobility. In a recently conducted survey, it came to light that Indian parents are among the most generous lots to spend on the quality education of their children, particularly on studies like Medical, Engineering, Management, Architecture, Law and Media.
It is against this backdrop, South India emerges as the most sought after destination for the technical and professional educations in the country.  There are umpteen reasons as to why parents feel comfortable sending their wards to places such as Mysore, Bengaluru, Chennai, Coimbatore, Tumkur and Hyderabad to pursue their higher studies. The hospitable socio-cultural environment, excellent transportation system, good infrastructure, English as the accepted medium of studies and ever pleasant climate are among many reasons that contribute towards the rise of South India as the educational hub in the country. In addition to these, academic excellence, job opportunities, branding strategies of different Institutions, timely completion of the courses could be viewed as some other contributing factors.
Let's have a cursory glance at some of educational institutions located in the southern parts of India that stand out by virtue of their impact on the stakeholders of Education. Let's understand their contributions in promoting academic excellence by analyzing their unique features as well as their best practices over the period of time. 
Bharath Institute of Higher Education And Research, Chennai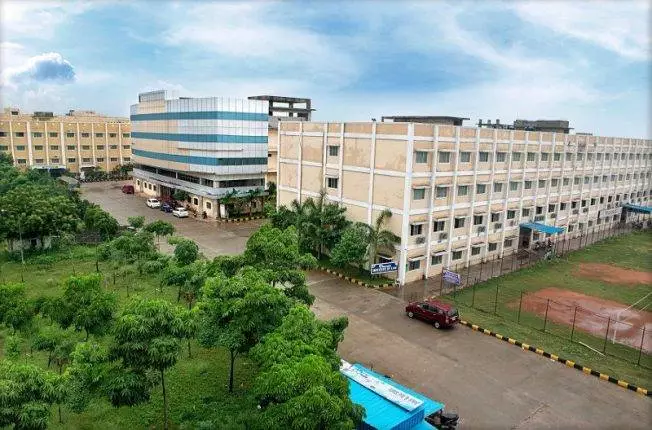 Academic Performance:
As an autonomous institution Bharath Institute of Higher Education and Research (BIHER) provides multi-stream, multi-cultural and high-quality education to nearly 10000 students from around the world. It is located in a sprawling area of 305 acres of land with 1.3 crore sq.ft. buildings located in 6 Campuses both in Tamil Nadu and Puducherry with the state of the art infrastructure facilities holds the pride of place among the prestigious institutions of Tamil Nadu.  What sets it apart from other engineering colleges is its popularity among students not only from India but also overseas. Initially it had affiliation from Madras University and Anna University respectively, now it is approved by UGC & AICTE".
The university has all well-qualified Teaching Faculty members to teach various UG and PG programs and to guide Ph.D. Research as per the statutory provisions.
There are many opportunities for the Research activities in the University. Efforts are made to promote innovation and quality in the collection of data statistics. The students and faculty members are encouraged to innovate through quality research in emerging areas.
It is heartening to note that BIHER boasts of being ranked by national Institutional Ranking Framework- Ministry of Human Resource Development, Government of India- as no. 1 -2017 amongst all institutions in India for Outreach and Inclusivity, Ranked as no. 2 -2018 amongst all institutions in India for Outreach and Inclusivity, ranked as no.35, amongst all institutions in India in the Overall ranking category.
Vision:
To support and augment an organized University-wide environment of research excellence where faculty are inspired and challenged to drive the boundaries of knowledge foundation. To motivate research leaders in India and around the world to partner with us in the expansion of knowledge discovery and the translation of discoveries into tangible benefits for society internationally. To be the voice of the research community at BIHER and in all ways, ensure the optimal and effective use of intellectual, financial and physical resources to foster an environment of research excellence throughout the University.
Placement Performance: 
The college has a unique placement tradition wherein students are encouraged to seek the opportunities and enhance their skill sets. The Placement and Training Cell believes in encouraging the students to go for entrepreneurial ventures which could benefit the students as well as society.
It's a matter of satisfaction that Bharath Institute of Science and Technology (Deemed to be University) attracts over 450+ recruiters from various domains of companies providing a wide spectrum of opportunities.
Meenakshi Academy of Higher Education and Research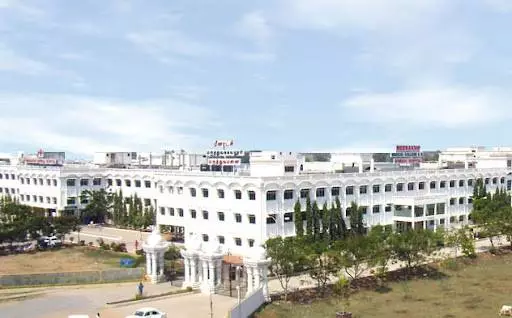 Thanks to the founder late Mrs. D. Meenakshi Ammal, a noted philanthropist that Meenakshi Academy of Higher Education and Research popularly known as MAHER (Deemed to be University) in all National Educational Statutory bodies like NAAC, NIRF and UGC today stands out for imparting quality education especially to the poor and for its vision to continuously upgrade exemplary standards in the quality of education and teaching, training, research and extension
Under MAHER we have following Constituent Institutions – Meenakshi Medical College Hospital and Research Institute, Meenakshi Ammal Dental College and Hospital, Meenakshi College of Nursing, Arulmigu Meenakshi College of Nursing, and the Faculty of Physiotherapy and Hospital.
In Chennai, the institute is known for its faculty members who are both from industry and academics. Each faculty member has his/her own niche of research under the umbrella of the thrust areas of research identified by the institution. MAHER has collaborative research programs with Madras Medical College, Frontier Life Line Hospital, Madras Medical Mission, Tamil Nadu Veterinary and Animal Sciences University and other Medical College Hospitals and Research Institutes.
With regard to placement, the management is very sensitive. Students are encouraged to learn skills as per the industry needs so that at the time of placement they don't struggle. College also provides them pre-placement training.
It's a matter of pride that MAHER over the period of time has received many Awards and Accolades for the academic achievements:
2nd best private Medical in Tamil Nadu – selected our College as one of the Best Medical Institutes in the Country. DICE (Doctors Institute for Competitive Exams) in association with DIAMS (Delhi institute for Advanced Medical Studies) awarded MMCH&RI, Enathur, Kanchipuram, 2nd Best Private Medical College in Tamil Nadu on 25th March 2018, at MCC Matric Higher Secondary School, Chetpet, Chennai. Shri. O. Panneerselvam Honorable Deputy Chief Minister & Dr. Vijaya Baskar Minister of Health and Family Welfare, were the Chief Guests for the ceremony.
National institutional Ranking Framework (NIRF) – Meenakshi Academy of Higher Education and Research ranked 100 in University category
VIT Institute of Technology, Vellore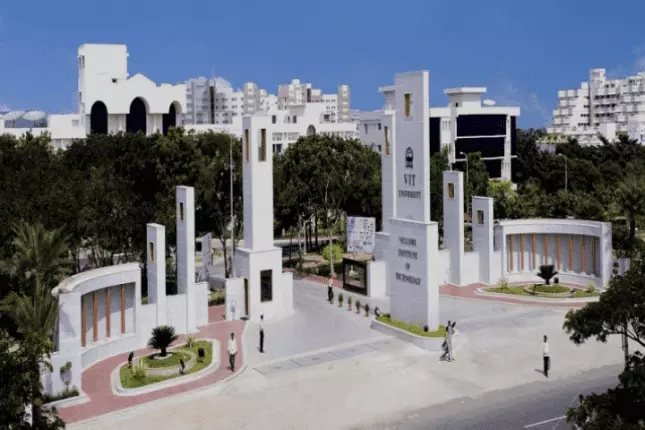 Vellore Institute of Technology (VIT) is a brand name in the field of higher education, known for its innovative practices and research oriented studies.  The global standards set at VIT in the field of teaching and research motivate the students to go in for relentless pursuit of excellence. In fact, it has become a way of life for the learners. The highly motivated youngsters on the campus are a constant source of pride. The university has MOUs with various international universities leading to an exchange of students and faculty for joint research projects for the mutual benefit of these universities.
VIT Group of Institutions offer 51 undergraduate, 33 Postgraduate, 11 Integrated, 2 Research programs and 2 M.Tech Industrial Programs. In addition, full-time Ph.D. in Engineering and Management disciplines, Ph.D. in Science and Languages and Integrated Ph.D. programs in engineering disciplines are offered.
VIT offers a quality research training experience for its students. The Institute maintains its relevance to world-class research by linking with industry and business through local and international research networks.
VIT has strong international presence across the world and partnerships with over 300 foreign universities. VIT provides options to study 2 years at VIT and 2 years at a partner foreign university. One may also study a semester abroad or engage in international research collaboration.
VIT meets the expectations of Government organizations, research institutes, mission-critical organizations like Defence establishments, the Indian Space Research Organization (ISRO) and Atomic Research centers. It has secured sponsorship for 50 research projects to the tune of RS 100 million. VIT also offers consultancy services worth more than Rs 2.2 million to the Defence Research and Development Laboratory.
It is heartening to note that VIT applies every year for national/international ranking and accreditation, wherein one of the important assessment metrics is "Students' Progression"(Higher Studies and Placement).
The PAT center plays an integral role in creating the illustrious placement record of VIT. It ensures smooth functioning of the placement activities in the campus. With regard to placement, VIT remains unparalleled among the autonomous institutions of the country, as evident from the data below:
1630+ Dream Offers, 650+ Super Dream Offers
900+ Dream & Super Dream Internship offers
1306+ Regular Offers
7000+ Overall Offers
Limca Book of Records for the 8th time for unbeatable placement records.
Highest CTC: 41.6 Lakhs per annum
In 2019-20 alone, PAT has brought more than 700 companies on campus for placements. Last year, the highest offer made was 41.6 lakhs per annum by Microsoft.
Vision of the Group:
VIT has a large pool of dedicated and highly qualified academic staff. The institute believes in the power of every faculty to create an intellectually stimulating and learning experience for students, and in developing socially responsible citizens of the future.
Academic Excellence:
Recognized as an Institution of Eminence by Govt. of India.
1 Private University for Innovation as recognized by ARIIA, Govt. of India.
Among the Top 3% of the world's universities as ranked by QS Global World Ranking.
Ranked among the top 301 – 400 universities in the world for Computer Science, by The Times Higher Education World Ranking.
TAPMI Manipal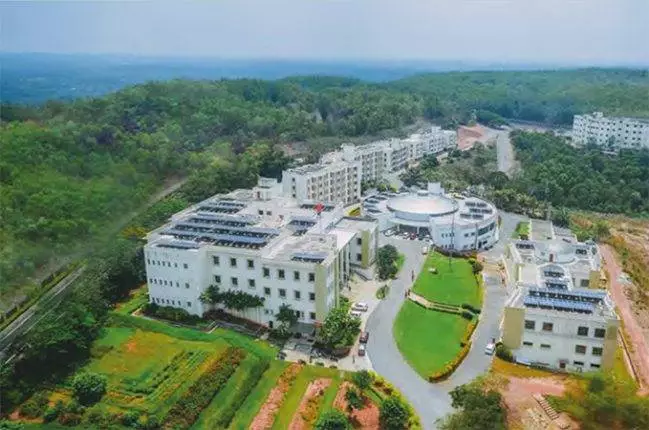 Academic Performance:
The T.A. Pai Institute of Management is a well-known institute for its strong academic credentials, having high reputation and broad vision. TAPMI, well recognized for its students and faculty, develops leaders who can change the world. TAPMI has ranked among the 20 B-schools in the country. It is recognized by the All India Council for Technical Education (AICTE) and the Association of Indian Universities (AIU). TAPMI also accredited by the world's most recognized business accreditation, the Association to Advance Collegiate Schools of Business (AACSB). It is located in natural and serene environment in sprawling 44.11-acres of land in Manipal, Karnataka, It provides endless opportunities for growth with an integrated living and learning ambience. Its state of the art educational and residential facilities give students an edge over others.
As a matter of fact, TAPMI is one among the 7 institutes in India and 5% of the worldwide to have been accredited with the illustrious Association to Advance Collegiate Schools of Business (AACSB) accreditation, the oldest and toughest accreditation in the world of business education. It is also the 5th institution in India to have both the AACSB as well as Association of MBAs (AMBA) accreditation.
As regards the vision, students at TAPMI, focus on delivering thorough business knowledge to the learners, making them industry relevant right from the first day. We also believe in the power of experiential learning. Case study based teaching lessons, simulation games, Management in Practice (MIP), Brand scan, usage of Bloomberg and Reuter's terminals are a few engagements that take students beyond the four walls of the classroom and instill leadership qualities that in turn enable the students to tackle business challenges head-on.
Research is vital, here both for students and faculty. In fact, Research is central to the vision of TAPMI. We aspire to be one of the leading business schools in management research in India. We would like to be distinguished through creation of an enabling ecosystem for research work, training as well as facilitating outstanding researchers, and designing interventions yielding social, cultural and economic benefits to community. Research Vision: We aim to be among top 10 Business Schools in management research in India by 2022 Placement at TAPMI is seen as an opportunity to enable students to face ever changing industry environment, inculcating in them traits such as commitment to business. They are also prepared to take advantage of a wide variety of resources and opportunities for corporate engagement.
What makes TAPMI so distinct in the field of management studies is focus on CSR activities. The T A Pai Management Institute (TAPMI) strives to be a global business school, with a mission of developing global wealth creators. The challenges of emerging business models and the changing realities of the global business environment require global resources. TAPMI believes that today's business students and faculty must be sufficiently exposed to global markets as economic interdependence has gained eminence over geographic boundaries. We develop competent faculty and students to work in an increasingly interdependent world through specially designed international collaborative arrangements.
BNM Institute of Technology, Bangalore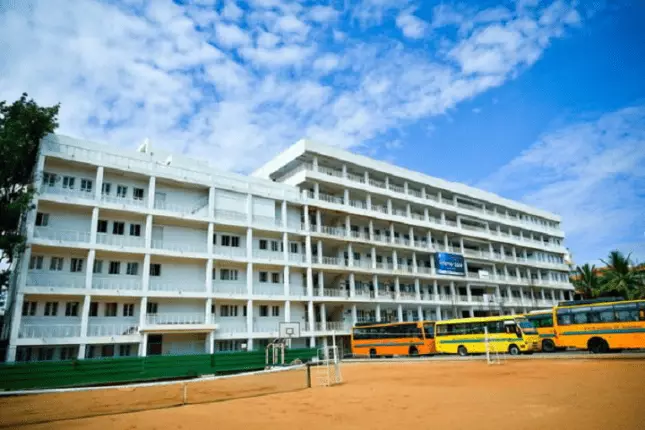 BNM Institute of Technology located in the heart of garden city of India, is committed to spreading awareness about the progress and achievements of BNMIT, creating opportunities for current students and provide assistance to deserving students to excel in their professional life help them complete their education. It is affiliated to Visvesvaraya Technological University.
The management is particular about proving comfort and conducive environment where learning and teaching can take place without any disturbance and distraction. With this end in view, the institute has good infrastructure such as:  Auditorium with a seating capacity of 900 students.2 Seminar Halls each having a seating capacity of 150 students.1 Seminar Hall with a seating capacity of 200 students with conference meeting facilities. Computer Labs with 900+ updated systems which can support the conduction of online test for 300 students in a single slot. Dedicated internet bandwidth of 100 Mbps for each system. 2 Group Discussion Rooms & 5 Personal Interview Rooms.
The institute is known for promoting relationship and as such remains in constant touch with its past students. Henry Ford made a valid point.
"Coming together is a beginning, staying together is progress and working together is success"
Teachers at BNMIT believe that today's students are tomorrow's alumni and they must be groomed well so that they will become true brand ambassadors of the institute. Alumni are encouraged to come back & interact with students. That is possible only when students can take pride in their association with institution.
The management is very serious about the placement of the students. As a result, lot of importance is given to the regular training and development of the learners. There is an independent placement and training cell that ensures 100% placement of the students. There is a provision for campus selection as well. The Department of Training & Placement establishes contact with various industries to understand their job requirements and invites them for campus recruitment process every year. The students of BNMIT are recruited by several multinational and national organizations. They have always proved to be a great asset to the organizations wherever they have joined.
In order to make the students industry ready, the college conducts various activities from time to time like:
Webinar series on "Research Frontiers in Intelligent Computing"
Skill Development Program (SDP)
It's important to highlight that BNMIT gives a great deal of importance to the industry experience of the faculty. Because people from industry are in a better position to identify the gap that exists between the campus and corporate.
Loyola Institute of Business Management, Chennai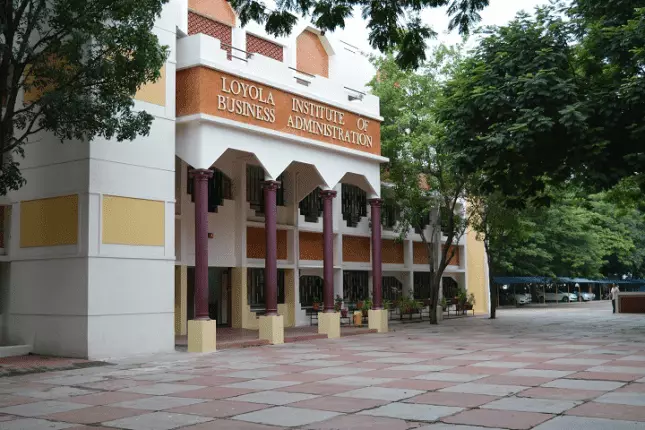 When we talk about premium business schools in India, the name of Loyola Institute of Business Administration (LIBA) would find a mention.  It is known in Chennai in the beautiful coastal city of Chennai, the capital of Tamil Nadu, a state known for its historical significance and contributions in the field of art, culture and literature, especially during the Sangam Age. Important to highlight that this B-school was established in 1979 within the premises of Loyola College, to create authentic leaders and managers who could be ethical  and value driven members in society. LIBA in fact, earnestly strives to inculcate among the students values such as co-operation, co-ordination, fair play and service to the society.
LIBA primarily offers a two-year Full-time PGDM course, approved by AICTE and recognized by AIU. It also offers other programs: Part-time PGDM (AICTE approved), Ph.D. (affiliated to the University of Madras) and one-year executive diploma programs. The Management Development Centre offers various customized programs (short-term and long-term) with a focus on skill development. LIBA concentrates on the holistic formation of students in all aspects viz., intellectual, social, emotional and spiritual.
Highlights
It's a matter of pride to highlight that since the inception of LIBA, it has maintained a reputation of achieving 100% placements for its students. Highest salary package of Rs 14 lakhs per annum. Median salary package of Rs 9 lakhs per annum. Students are placed in 13 different sectors. More than 50 companies participated in final placements.
This has been possible mainly because the broad outlook of the management which promotes creativity and innovation as reflected in the projects of the students. In fact as LIBA focuses on pursuing excellence with ethics, we view this formation as a deliberate approach to excellence, which means unusual goodness surpassing the ordinary to reach the heights of pristine standard of learning. That standard provides a unique and valued position in which a student feels (pathos) thinks (logos) and acts (ethos) in his or her circumstances based on values of goodness, truth and beauty. For excellence is not a skill but an attitude, which is nothing but a deep awareness of inner motivations, consolations, desolations, and intentions in what one says and does, what we call 'self-conscious living.'
Therefore, LIBA students are competent, committed, creative and compassionate. When they join an organization they will commit themselves totally to enhance the quality and standard of that organization.
The beauty of the vision of this institute lies in its emphasis on achieving excellence in management by remaining ethical throughout.
To be a premier management school focusing on excellence with ethics.
Manipal Academy of Higher Education, Manipal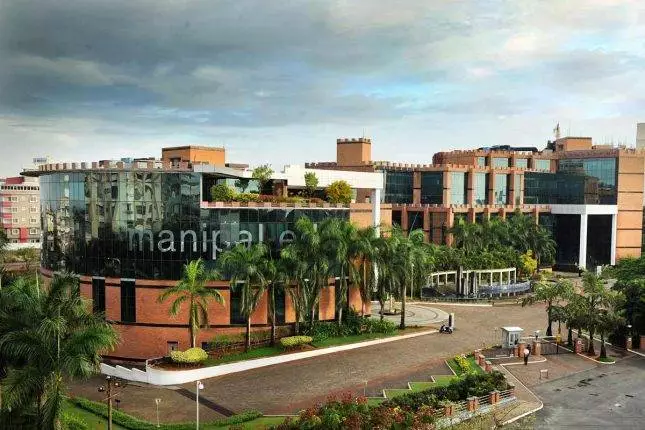 Academic Performance:
Manipal Academy of Higher Education commands huge respect for building a brand in the field of teaching learning professions. Today it has global impact as a result it boasts of having over 28,000 students from 57 different nations who live, learn and play in the sprawling University town, nestled on a plateau in Karnataka's Udupi district. It also has nearly 2500 faculty and almost 10000 other support and service staff, who cater to the various professional institutions in health sciences, engineering, management, communication and humanities.
The University has off-campuses in Mangalore and Bangalore, and off-shore campuses in Dubai (UAE) and Melaka (Malaysia). The Mangalore campus offers medical, dental, and nursing programs. The Bangalore Campus offers programs in Regenerative Medicine. The Dubai campus offers programs in engineering, management and architecture, and the Melaka campus offers programs in medicine and dentistry.
Every institute stands out top class facilities and unique pedagogy, which are constantly reviewed and upgraded to reflect the latest trends and developments in higher education.
The Manipal Group, a pioneer in higher education services with a 60-year-old legacy of excellence, also owns and operates campuses in Sikkim and Jaipur in India, and in Nepal, Malaysia, and Antigua, in the Caribbean.
Part of the Manipal Group, the University is ISO 9001:2008 and ISO 14001: 2004 certified,  and has won the prestigious IMC Ram krishna Bajaj National Quality Award and the International Asia Pacific Quality Award in 2007- 2008.
MAHE continues to be the best private university in the country being ranked #1 by three prominent ranking agencies, The Week, India Today and Education World. The Week has ranked MAHE number one for the fourth time in a row and Education World, third consecutive year. There was a considerable improvement in the NIRF ranking as well — moving seven places up to the 11th position from the 2017 ranking. Kasturba Medical College, Manipal and Mangalore too have done well in the rankings, particularly the NIRF. Manipal College of Pharmaceutical Sciences has maintained its seventh position in NIRF.
Manipal Academy of Higher Education is a globally engaged institution with active partnership with more than 220 leading universities around the globe, true to its vision:
"Global leadership in human development, excellence in education and healthcare."
Research is accorded top priority and as such the Manipal Advanced Research Group (MARG) was formed in early 2006. Conceived as a specialized academic center of excellence built on a strong foundation of basic science, one of the primary goals of MARG is to incubate new research in the fundamental sciences and inter-disciplinary areas through innovative schemes and research programs.
Social Impact
Manipal Academy of Higher Education is a great votary for community empowerment and is therefore in the forefront when it comes to impacting Society. Following are some well-known projects where the students and faculty contribute towards the benefit of the needy in the community such as:
Community Radio
Manipal Arogya Suraksha
Namma Angadi
Rainwater Harvesting
Social Welfare Committee
Amchi Project
Woxsen School of Business, Hyderabad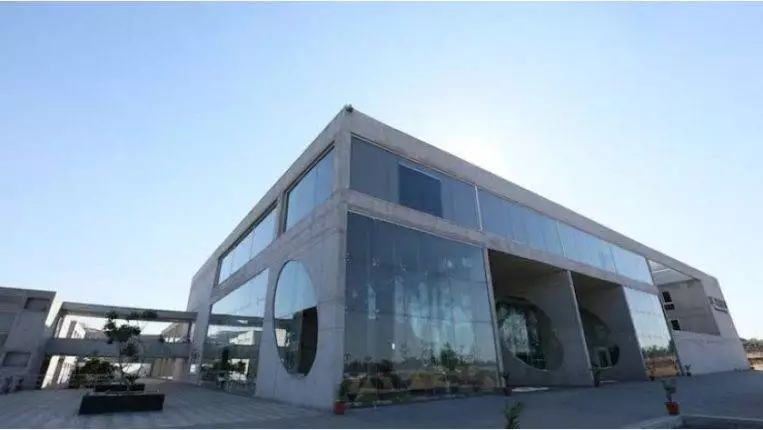 Academic Performance:
When it comes to career transformation, creating & building industries, nurturing entrepreneurial ventures Woxsen holds the pride of place among private institutions especially in the southern parts of the country. The recent survey carried out by various educational magazines suggests that this institute is making its mark on the basis of various parameters such as Academic Excellence, Placement Performance, Corporate Interface, Placement Strategies and Support, Teaching Learning Resources & Pedagogy and Future Orientation.
It is motivating that Woxsen University is Ranked 8th in the National IMPACT 2020 RANKING, Published in the Education Post. The ranking parameters included Social Impact, Well-Being Impact, and SDGs Impact & Brand Impact.
This institute takes inspiration from its lofty vision:
To build an institution of excellence in higher learning led through disruption, develop a multi-cultural yet inclusive cohort of global professionals and contribute towards societal welfare.
The unique feature of Woxsen's faculty members and students is their focus on quality and innovation. They aspire to seek new knowledge and new practices for business. More importantly, the faculty members pursue excellence in thought leadership in fields related to new ventures and startups.
This is the reason Woxsen's graduates stand out for the knowledge and skills to be effective as game changing entrepreneurs and business leaders in today's ever changing business world.
Woxsen has the reputation of supporting  several key centers for excellence that nurture research in areas related to new enterprise management.
This institute is envied for giving 100% placement to its students. Not only this, the institute keeps track-record of all the passed out students, showing readiness to assist them in all walks of life.  The dedicated placement cell, works round the year to assist students with summer internships & final placements.
Faculty Excellence:
Our Faculty consists of leading academicians, industry experts & entrepreneurs, drawn from across the world. Students can expect not just the latest research knowledge but also mentorship through the various stages of learning. Through a judicious mix of resident and visiting faculty, Woxsen brings together the best knowledge applicable to both the Indian and global contexts.
Sathyabama Institute of Science and Technology, Chennai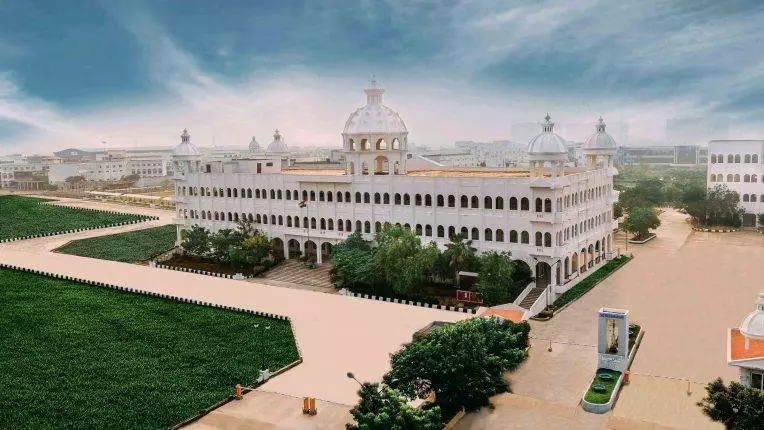 Under the category a Christian Minority Institution, Sathyabama Institute of Science and Technology holds an enviable position. It is pretty well known as a premier institute imparting knowledge in the areas of engineering, science, technology and education. It speaks volumesof the contribution of the college that it got the status of a Deemed University.  The University has been awarded as Category "A" University by Ministry of Human Resources Development (MHRD), Government of India and accredited by NAAC with Grade "A" in the year 2017, certified with DNV-GL ISO 9001 standard and offering exemplary education from last 29 years.
The Sathyabama Institute of Science and Technology (Deemed to be University) offers 27 programs at UG level and 41 programs at PG level in all disciplines. The institute has excellent infrastructure facilities including modern laboratories, library with multimedia facilities, internet and other general amenities. The university wrote a special page in the history of space research on 22nd June, 2016 with the launch of "SATHYABAMASAT" in association with ISRO.
What motivates the students and faculty alike is the motto is "together for better tomorrow" and our mantra of Success is "learn today and lead tomorrow". We practice and teach to ours students that "joy of living is in joy of giving".
Research is close to the heart of the university. The management is of the opinion that better society can be created only by ensuring better quality of research work. Centre for Research at Sathyabama Institute of Science and Technology (Deemed to be University) offers Ph.D Program (Internal/External). Research is offered in multi various branches of Engineering, Technology and in Science and Humanities. This centre provides research opportunities to the aspiring candidates serving in Educational Institutions / Industries / Research Organizations / Research Laboratories and Government Departments. Centre for Research encourages the scholars to have collaborative projects with the University.
Placement Strategies
Placement truly plays an important role in the career and future growth of both students and the institutions. Keeping that in mind, the university has a full-fledged Placement cell of Sathyabama Institute of Science and Technology (Deemed to be University) that continuously monitors the employment opportunities available in various domains and arranges the campus interviews for the eligible students both at Under Graduate and Post Graduate level. As per the NASCOMM guidelines, the campus recruitment program commences after the end of Pre-Final semester examination. Training and opportunities are provided based on the interest and choice of the students. Once a candidate chooses between applying for IT companies or other Core companies, the right kind of exposure and training will be decided by the Placement Cell. The students are given an opportunity to learn from Industrial Experts towards development and innovation through Internship program. The students are made proficient with the expectation of the industry. Many of them are given an opportunity to work in R&D sector as well.
Career Enhancement
In order to give a competitive edge to the students and keep them industry ready, various career enhancement programs are organized on a regular basis. The prime objective of these programs is to ensure that the students' level of preparedness is enhanced. The training modules will be formulated to improve students' skills like:
Presentation Skills
Listening Skills
Interpersonal Skills
Personal Grooming
Brain Strain
Aptly Reach
Speed Mathematics
Logical Reasoning
Verbal Reasoning
Creativity
Planning & Goal Setting
Time Management
Personnel Counseling
Vision
The vision of the university is always the source of inspiration and motivation. The vision odSatyabama is:
"We envision to be an Effective and Competent Source of technical manpower for the current and future Industrial requirements"
Amrita Vishwa Vidyapeetham, Coimbatore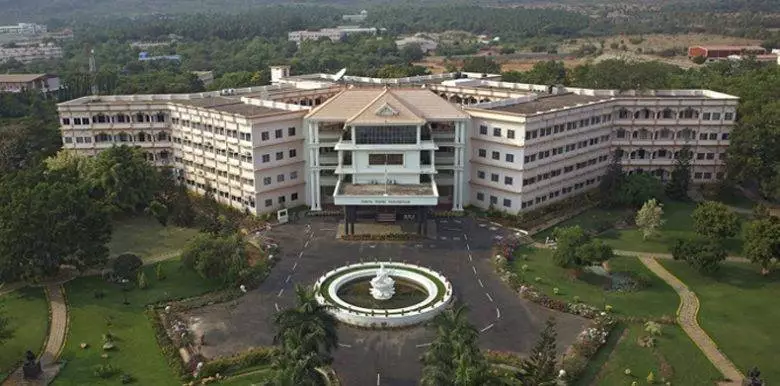 Amrita Vishwa Vidyapeetham enjoys the unique reputation of being the youngest institution to be awarded with an 'A' grade by the National Assessment and Accreditation Council (NAAC), an autonomous body established in 1994 by the University Grants Commission (UGC) of India to assess and accredit institutions of higher education in the country.
Amrita Vishwa Vidyapeetham personifies multi-disciplinary academic excellence through the exceptional quality of its education system that is modern and comprehensive, with special emphasis on core human values.
Undergraduate, postgraduate and doctoral programmes are offered in Engineering, Business, Medicine, Dentistry, Pharmacy, Nursing, Journalism, Biotechnology, Information Technology, Arts and Sciences, Health Sciences, Teacher Education, Microbiology, Hospital Management, Visual Media Studies, Mass Communication, Social Work, Nano sciences and Ayurveda.
THE Young University Rankings 2019
It's a matter of huge satisfaction that In the 2019 edition of the annual rankings released, Amrita Vishwa Vidyapeetham was placed in the list of top 250 in Young University category.
THE Emerging Economics Rankings 2020
In the 2020 edition of the annual rankings released, Amrita Vishwa Vidyapeetham has been placed in the list of top 100 in Emerging Economics category. Emerging Economics Rankings: 90
The World University Rankings 2020
In the 2020 edition of the annual rankings released, Amrita Vishwa Vidyapeetham has been placed in the list of 601-800 category. The ranking features universities in 70 countries and seventeen Indian higher education institutions have featured in the list of the world's best universities.  World University Rankings: 601-800
Amrita Vidyapeetham accords great significance to research work. Presently, research projects are in progress, such as:
PI: Dr. Gowtham R.
Research Area: New, Computer Science
Micronet – Mobile Infrastructure for Coastal Region Offshore Communications & Networks
PI: Dr. Maneesha V. Ramesh
Research Area: Wireless Networks
Cost Effective Device and Cloud Enabled Smart Solution for Diabetes Care
As regards the placement of the students, management ensures that the students are provided quality pre-placement training. They are trained in areas like verbal and non-verbal reasoning, aptitude test, group discussion, general knowledge and interview techniques. It is the responsibility of the placement cell that all students are provided assistance till they all get absorbed suitably.
Saveetha Engineering College, Chennai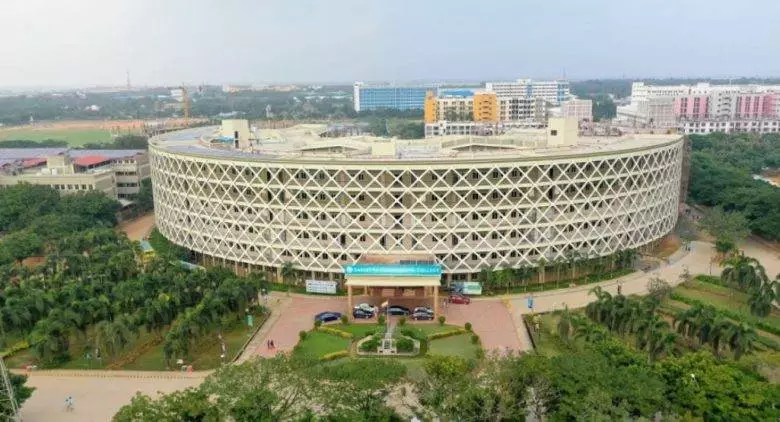 Academic Performance:
Saveetha Engineering College (SEC) located in the beautiful coastal city of Chennai is a favorite destination for students aspiring for various courses such as Civil, CSE, ECE, EEE, EIE, IT, Mechanical and Medical Electronics, Biomedical, Chemical, including MBA.SEC has been given the Autonomous Status by the UGC from the academic year 2019-2020. The vision of the college is source of motivation both for students and faculty.
"To be and to be recognized for setting the standard of excellence in engineering education and high quality research in Science and Technology. "
It is a matter of huge satisfaction that the institute  ranked 96 among 7000+ Engineering Colleges in India by the National Institute Ranking Framework (NIRF)for the academic year 2017-18 among all IITs, Central, State and Private Institutions in India.
SEC was also awarded with 'A' Grade with a high score of 3.19 on a scale of 4 by the National Assessment and Accreditation Council (NAAC) for 5 Years.
Placement Drive
It is a positive development that despite the economic slowdown this college has been successful in giving proper placement to the students as is evident from the statistics:
96 % of 2020 passing out batch already placed.
250 plus Multinational Company visited our Campus for Placement
967 Students placed till now from the 2020 batch
Highest CTC of Rs.16 Lakhs per annum
More companies are in the queue to visit SEC Campus for Placement Drive.
CSR Activities
Latest Events
Saveetha college of Engineering is driven by social commitment. Education becomes meaningful only when it positively impacts society. With this goal in mind, the institute conducts different programs from time to time, here is a glimpse of some of the programs conduct in the recent past.
Center for Micro Nano Design & Fabrication jointly with Dept. of ECE conducting Two Week Online Certificate Courses
MIND SPORT FOR ENGINEER
Department of ECE Conducting a WEBINAR on Image Processing – A Holistic Approach
SEC(Autonomous), conducting Webinar Series II, "Talent Show" for +2 Students
R & D Highlights
In this institute research is given due importance and as such the college is popular as Research Oriented Ecosystem Campus. A cursory glance at the following research activities highlights the priority given to R & D.
10 Crores of funding from Board of Research in Nuclear Sciences (BRNS), Department of Scientific and Industrial Research (DSIR), Department of Science & Technology (DST), All India Council for Technical Education (AICTE), Council of Scientific & Industrial Research (CSIR) etc.
State of Art Research Equipment's and Advanced Research Software's.
5 Anna University Recognized Research Centers and 10 Centers of Excellences
DSIR -SIRO Recognized Research Centre
MSME Recognized Business Incubation Centre
Good number of Research Supervisors with Research Scholars
11 Patents filed and 1542 Publications
SDM College of Engineering and Technology, Dharwad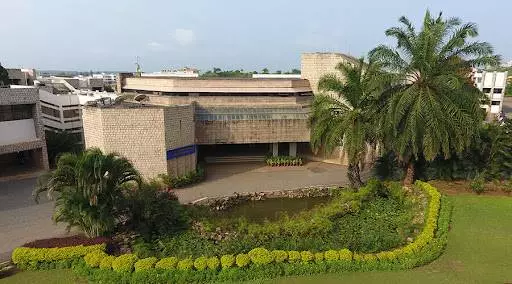 Sri Dharmasthala Manjunatheshwara College of Engineering and Technology (also called SDMCET)is one of the oldest institutions known for values and transparency. It is an autonomous private engineering college located in Dharwad which is affiliated under Visveswaraiah Technological University (VTU), Belgaum, Karnataka. The institution is approved by All India Coucnil for Technical Education (AICTE).
It is one of the 14 institutions in Karnataka which got funded from World Bank under Technical Education Quality Improvement Program(TEQIP) – Phase I.
This college is able to inspire the students as well as teaching community by virtue of its broad outlook and vision.
"To develop competent professionals with human values"
Academic Performance:
It is rightly said that sincerity and hard work never go in vain. This is quite evident from the recognition that the college received in the recent past.
In 2018 it was ranked as the 53rd best engineering college in India
The Week (Indian magazine) has ranked Shri Dharmasthala Manjunatheshwara College of Engineering and Technology as 67th among the best engineering colleges in India for the year 2019.
Research work Project:
Credit goes to the Management of this institute for its clarity and focus towards promoting research and innovation. The management is well aware that the dream of better and self-reliant India can be fulfilled only through research and development.
Development of research activities are rooted in SDMCET by visionary management policies like sending faculties to pursue their research studies under quality improvement programs(QIP) to IITs/NITs and deputing faculties for other QIP programs. Interaction and collaboration with foreign universities in UK and USA are the part of SDMCET research culture. Apart from this, the institute is being continuously encouraging faculties for postdoctoral fellowships at various national and international universities. Many elementary research projects at SDMCET have laid the foundation for strengthening knowledge that lead to applications over a period of time.
Placement Performance: 
The college conducts training in aptitude and soft skill development for students in final and pre-final year for their placement. On an average, every year more than 50 companies visit our campus and more than 80 % students are placed.
We are striving to sustain our success and achieve more in the coming years. In fact, placement is given top priority among various schemes for the welfare of the students. The college has a full fledge placement cell which ensures that all students right from their forth semester start preparing for campus selection. From time to time industry experts are invited to interact with the students and helped them to understand the industry needs. Special classes are also organized for the weak candidates so as to help them to catch up with others.
Siddaganga Institute of Technology (SIT), Tumkur
Siddaganga Institute of Technology (SIT) holds the pride of place among the technological institutions located in Karnataka. Located in a small religious town Tumkur, about 70 kms away from Bangalore, this institute is run by the Sri Siddaganga Educational Society. The institute was established in 1963 is known for values and moral code of conduct.   It offers undergraduate degree courses in 12 disciplines. In addition, it runs post-graduates programs in 14 disciplines, including MBA and MCA courses, of the 14 departments, 12 belong to engineering disciplines, one each for Architecture and Management, three are the Science facilities. It has nearly 5000 students with a faculty strength of about 310. It became an autonomous institution under Visvesvaraya Technological University in 2007–08.
Research Activities:
SIT Tumkur give's lots of importance to research and development activities. It's a proven fact that the quality of research in India suffers because of financial constraints. Keeping this in mind, the institute provides stipends to the research scholars both at PG and UG levels.
Deputation of Faculty for Ph.D Programme:
The provision financial assistance to the faculty members to pursue Ph.D programme for a period of three years.
UG Research Component:
To keep the students motivated, students undergoing this research program will be exempted from studying one Humanity Course and one Open Elective Course.
To motivate the faculty members to pursue research activities, the management provides incentives for publishing articles in journals/conference which are indexed by Scopus/Web of Science databases, writing Books
Placement Performance: 
Siddaganga Institute of Technology was ranked 91 among engineering colleges by the National Institutional Ranking Framework (NIRF) in 2020.
Vision:
To continuously strive for the total development of students by educating them in state-of-the-art-technologies and helping them imbibe professional ethics and societal commitment, so that they emerge as competent professionals to meet the global challenges.
SIT ranks not only as one of the oldest institutions but also for its professionalism. At a time when there is a decadence of values and ethics, society is in need of value driven institutions where character is molded and professional ethics are inculcated.
SRM Institute of Science and Technology, Chennai
SRM Institute of Science and Technology, is a deemed university is quite popular as a brand institution. Located in Kattankulathur, Chengalpattu, Tamil Nadu, it attract students in a large number from the northern parts of India.  SRM Institute of Science and Technology includes six campuses, three in Tamil Nadu — Kattankulathur, Ramapuram and Vadapalani, one in NCR Delhi, one in Sikkim and one in Amaravati.
SRM Institute of Science and Technology  is one of the top ranking universities in India with over 52,000 full time students and more than 3200 faculty across all the campuses – Kattankulathur, Ramapuram, Ramapuram Part (Vadapalani) – all in and around Chennai,   and Modinagar, NCR, Delhi – offering a wide range of undergraduate, postgraduate and doctoral programs in six Faculties – Engineering & Technology, Management, Medicine & Health sciences, Science & Humanities, Law and Agricultural Sciences.
Academic Performance:
It is important to understand that academic performance is not only about doing well academically. Education is all about creating an environment of academic freedom, where bright minds meet, discover and learn, as was highlighted by Rabindra Nath Tagore.
SRM Institute of Science and Technology (formerly known as SRM University) – where you have the freedom to take wings. This is the reason that the university has done well in global ranking:
Research work Project:
SRM university is known for its priorities towards achieving its excellence in education as well as in the field of research. There is a strict policy against plagiarism. This is to promote creativity and original work in research. True research is nothing but human quest for finding the truth.
SRM University is the preferred destination for top recruiters across India. SRM University, students get opportunities across a wide range of industries and companies visiting the campus every year with attractive salary packages and profiles to match students' expectations.
SRM University is of the firm believe that every institution must address the issues concerning communities. Social commitment must be the top priority of every institution. In this sense SRM university is utilizing resources by safe guarding the interest of communities.  CSR is an integral part of all education activities.  Here is a glimpse of some such activities:
ICAME 2020
Organized by Department of Mechanical Engineering, SRM Institute of Science and Technology
3rd International Conference on Advances in Mechanical Engineering (ICAME – 2020)
National Conference on Artificial Intelligence and Intelligent Information Processing
Organised by the Department of Software Engineering, SRM Institute of Science and Technology, Kattankulathur.
National Conference on Artificial Intelligence and Intelligent Information Processing
Vision of the Group:
VISION
The vision of SRN is very clear that is to:
Develop a fully connected, strong, SRM alumni community.
Faculty Performance:
Faculty
One of the unique features of SRM university is the selection of right faculty for the right discipline. The quality of any university depends on the quality of the faculty. Well qualified and experienced faculty members form the department. They specialize in structural, geotechnical, environmental, water resources, transportation, surveying, and construction engineering, as well as management, remote sensing and GIS. The faculty members contribute to academic development by publishing books and presenting papers in international and national conferences. The labs are well equipped with state of the art equipment.
Great Lakes Institute of Management, Chennai
Academic Performance:
Great Lakes Institute of Management (also known as Great Lakes or GLIM) is one of the most prestigious private business schools located in the capital city of Tamil Nadu. The institution was the brain child of a renowned professor of Management Bala V. Balachandran. Its first campus was started in Chennai and its second campus started functioning in Delhi NCR in the year 2011. Great Lakes offers full-time and Executive Post Graduate Programs in Management. It only offers programs in Data Science, Business Analytics & Cloud Computing. These programs are best suited for working professionals, desires of enhancing their competence and professionalism.
Great Lakes Institute of Management is among the first business schools in India to offer a one year full-time management program. Its one year Post-Graduate Program in Management (PGPM) became the first one year full-time management program to be accredited by India's higher technical education regulator AICTE in 2008.
Currently, at the helm of Great Lake Institute of Management is Dean & Principal Dr. Suresh has a B. Tech. degree in chemical engineering from Indian Institute of Technology Delhi and an MBA degree from Indian Institute of Management, Calcutta. He has received his Ph.D. from NYU's Stern School of Business.
Institute vision is very clear:
To Be a World Class Management Institute to Develop Socially Sensitive, Business Ready Leaders and Entrepreneurs with Futuristic Orientation and Commitment towards Innovation and Excellence through Cost-Effective Programs.
Research & Development:
Research is very close to the heart of the Management. This institute often gets single out for its commitment and dedication towards research and innovative practices. In fact,   Great Lakes has a proud tradition of achieving extraordinary result in the field of R & D. Right from its inception, the role of knowledge creation in tandem with knowledge dissemination has been stressed at this institution. One can understand this from the fact that more than 80% of the faculty members holds a Doctoral degree from leading institutions across the world .No wonder the ranking of the institute has been  very motivating:
Ranked 2nd in Research Productivity amongst B-Schools in India by an independent survey conducted by professors from IIM-Bengaluru and XIM-Bhubaneswar.
It was ranked 16 by Business Today's "India's best B-schools 2019". It was ranked 23rd by the National Institutional Ranking Framework (NIRF) in Management category
Placement Performance: 
Great Lakes has shown consistency in the placement right from its inception. In view of its reputation for professionalism the students get very good placement every year. The placement cell of the institute makes it a point that the students complete their pre-placement training where they are exposed to aptitude test mock interview corporate values etc.
Vidyavardhaka College of Engineering, Mysuru
Academic Performance:
Vidyavardhaka College of Engineering established in 1997 was driven by a great vision-
"VVCE shall be a leading Institution in engineering and management education enabling individuals for significant contribution to the society"
The institute is known for reaching out to the poor and needy students not only from Karnataka and other southern states but also from others part of India. Students are offered right career and courses such as undergraduate degrees in six different fields of engineering, and post graduate degrees in three different fields. VVCE is affiliated to Visvesvaraya Technological University (VTU), Belgaum, approved by AICTE, New Delhi and recognized by the Govt. of Karnataka
In fact, Vidyavardhaka College of Engineering located in the historical city of Mysore, ranks among the well-known engineering colleges in Karnataka. The growth of the institute speaks volumes of the commitment and the leadership qualities of the management. VVCE is an autonomous institute and recognized by the Government of Karnataka. The college is lucky to have Dr. B. Sadashiv Gowda as the Principal, who is known for his discipline and professional outlook.
Placement Highlights:
The institute is very particular about the suitable placement of its students. The placement cell is known for working on over footing until and unless all students get placed.  The department is instrumental in providing necessary skill set to all UG and PG students to develop their employability skills, leadership qualities and personality development.
The Training and Placement Department (TAP) deserves special mention for being an integral part of VVCE. It connects students of BE, MTech and MBA and also the various departments. The department has the best infrastructure for the smooth conduct of training and placement activities. The department works in close co-ordination with the Industry Relations Executives and the Department Placement Coordinators (DPC) which comprises both students and faculty members nominated from individual departments.
Nitte Meenakshi Institute of Technology
NITTE Meenakshi Institute of Technology (NMIT) is strategically located in the 23 acres of land close to the airport and far from the madding crowd of Bangalore, Karnataka. This is one of the most prestigious   autonomous engineering colleges affiliated to the Visvesvaraya Technological University, Belagavi. The college is approved by the AICTE, New Delhi. NMIT offers a four-year graduate programme in engineering leading to the award of the degree Bachelor of Engineering (B.E.) as well as many  master programs like MCA, M. Tech and MBA, true to its vision- To serve a diverse multidisciplinary field of research encompassing the knowledge of basic sciences and Engineering disciplines
Academic Performance:
NITTE Meenakshi Institute of Technology is known for academic rigor and discipline on the campus and the same got reflected when it got ranked 100 among engineering colleges by the National Institutional Ranking Framework (NIRF) in 2018. This ranking bares testimony to the academic brilliance of the Faculty and the professionalism of the Management. It is because of the conducive environment on the campus that students like Aditya Vijay kumar got International recognition and bounty in the year 2020 and other Alumni brought laurels to the institute- Salman Yusuf Kh an, winner of Dance India Dance 1, Jhalak Dikhlaa, Aditya, International soccer player for gpm.
Research & Development
NMIT stands out as a unique institution, having six Multidisciplinary Research Centers.
The Centre is known for carrying out Research and Development for Design and Development of a nano-satellite for Earth Observation. The satellite will help with Disaster Management, Low Earth Orbit Communication System, Quantum Satellite Communication, Novel Efficient Telemetry System Development, Space Debris Management and Outer Space Environmental Studies.
The research also focuses on innovative sensor development for atmospheric studies, outer space studies through femto-satellite development or satellite-on-chip programs. Through this effort, NMIT would like to participate in ISRO's capacity development to provide innovative services and trained human resources for national and international space programs.
It is a huge pride that under the Centre's earlier banner of CENTRE FOR SATELLTE research work was done by consortium of seven engineering colleges from Karnataka and Andhra Pradesh with NMIT as the lead Centre. This consortium of students and teachers designed, developed and fabricated India's first Pico – Satellite (weighing 850 gm) with the guidance of ISRO.
Placement Highlights:
Placement is one of the attractions of this institute and is driven by the principle "To reap the benefits tomorrow, we need to sow the seeds today". Placement cell is known for having a no non-sense approach when it comes to the interest of student's career and life. This is just a glimpse of the placement:
Over 100 reputed companies across industries visit the campus.
Students have exposure to global & premier Indian companies.
The packages goes up to 27 lacs per annum.
The reason for good placement is that each department of the institute plays a proactive role in the placement process.  A team of highly experienced and trained professionals of the respective department groom and nurture the NMIT students in to industry ready professionals. The skills and domain knowledge imparted to the students help them perform exceedingly well during the placement.
RV College of Engineering
Rashtreeya Vidyalaya College of Engineering (RVCE or RV College of Engineering), ranks among the oldest and value driven co-educational colleges located in the heart of Bangalore City, Karnataka, India. It has 11 departments in engineering, one school in architecture, and a Master of Computer Applications department. It is affiliated to the Visvesvaraya Technological University, Belgaum. RVCE is accredited by the All India Council for Technical Education and all its departments are accredited by the National Board of Accreditation.
What sets this institution apart from other institutions is its culture of collaboration with many institutions and industry across the world. The college is recognized as Centre of Excellence under Technical Education Quality Improvement Program by the Government of India.
Academic Performance:
RVCE is committed to its vision
Leadership in Quality Technical Education, Interdisciplinary Research & Innovation, with a Focus on Sustainable and Inclusive Technology…
Achievements
In 2008, the college had the highest number of gold medal-winners among colleges affiliated to Visvesvaraya Technological University.
R.V. College of Engineering was ranked 70 among engineering colleges in India by the National Institutional Ranking Framework (NIRF) in 2020.
Proud Alumni
Among the alumni of the college, special mention deserves to be made of the following celebrities:
Anil Kumble, the former coach and captain of the Indian Cricket Team
Chetan Baboor, the former international table tennis champion and Arjuna award winner
Asha Bhat, Miss Supranational 2014 and Bollywood actress
Placements Highlights:
RVCE is known for attracting many brand companies every year to its campus like Microsoft, Oracle, Google, Dell, Delphi, Intel, Yahoo, IBM, Caterpillar, Accenture, ABB, Goldman Sachs, Citrix, Wipro, Tata Consultancy Services (TCS), Infosys, Quest Global. Majority of the students get suitable placement on the campus itself. However, the Placement Cell which is led by a team of professionals makes all out efforts in preparing the students by giving them adequate practice sessions and mock drills before they face the real interview.
Research & Development
RVCE is a brand name mainly for its focus on promoting research and development. The college has not only the best of infrastructure but also the best of research guides, drawn from different walks of life. As a result, research activities are accorded the top priority and the outcome is as under:
The Robotics team from the Instrumentation Technology Department won the "All India Robotics Challenge" at Shaastra 2007. The annual tech fest held at IIT Madras.
Student Space Technology Projects
Team Antariksh is a student satellite team that aims to build a nanosatellite and Sounding Rocket with a research based payload, guided and monitored by various scientists from the Indian Space Research Organization Satellite Centre and faculty from RVCE.
Robotics
The college has robotics team, Astra Robotics under the umbrella of the Department of Electronics and Communication. The Team regularly participates and wins in National and International level competitions.
PES University
PES University, located in the cyber city of India, attracts students from all across the country. This University stands out for its commitment to promoting quality education and research, preparing the students to face the real world with solutions and vision. Students are shown a new horizon and they learn to realize their dream.
Academic Performance:
It's a matter of pride that PES University ranked sixth in the Outlook-ICARE India University Rankings 2019 and is the only University in Karnataka to rank among the top 20.
The faculty and the student of this University are inspired by the lofty vision:
We realize that our students represent the future of our society and we take our responsibility seriously. We ensure that the rock-solid foundation we help them build here – both, in terms of skills and values – will stand them in good stead no matter which career they choose.
The faculty members are the true pillars of the PES University. They are known for their dedication and professionalism. The management however, hires not only the best of faculty but also those having rich industry experience. As a result of this strategy PES has an edge over other institutes in terms of the academic outcome. Such faculty members develop and deliver the educational programs that bring excellence to the campus.
Alumni:
PES has a strong, lively alumni association that extends across the globe. This thriving alumni network brings great value to everyone associated with PES – from spreading awareness and recognition of the PES brand to creating opportunities for and guiding current students.
Research& Development:
Research and development are the key areas of focus by the PES University. Students are provided with all support be it, financial assistance, right mentoring or collaboration with the right institutions. There is a sense of jubilation and high expectation among the students, leading to sustain efforts towards the realization of the set objectives and research goals. There are different areas and different disciplines where research is in progress as the following:
Electronics
SATELLITE TECHNOLOGIES,
VLSI TECHNOLOGIES
Mechanical
ADVANCED COMPOSITES RESEARCH CENTRE (ARC),
CENTRE FOR AUTOMOBILE RESEARCH & ENGINEERING (CARE)
Computer Science
MOBILE SYSTEMS ENGINEERING,
CENTER FOR NETWORKS AND SECURITY
Placement Highlights:
Placement is a sensitive issue for PES University. The placement cell is invested with lots of responsibilities and power to address the issue of 100% placement of students every year. With this end in view, experts from industry are invited to the campus for sensitizing the students and preparing them for campus selection. Students are also taken to on industry visits on a routine basis so that they understand the existing gaps between the industry and academic curriculum. Many leading companies keep visiting the campus for the recruitment, here is just a glimse:
Akamai, Amazon, Cisco, Cleartrip, Deloitte, EBay, Flipkart,, HP, IBM, Intel, Microsoft, LinkedIn, Mahindra, Mercedes Benz, SAP, Siemens.
BMS College of Engineering, Bengaluru
B.M.S. College of Engineering (BMSCE) is one of the oldest engineering colleges known for promoting quality education and professional skills in India. Located in the heart of the cyber city, though a private college it is partially funded by the Govt. of Karnataka. This college is affiliated with Visvesvaraya Technological University and became autonomous in 2008. The College got accredited by National Assessment and Accreditation Council (NAAC) with highest grade of A++ in the Second Cycle: with a CGPA of 3.83 on a scale of four which is highest in the Country.
It is a matter of great pride that BMSCE which at its inception offered only three undergraduate courses, today it offers 13 Undergraduate & 16 Postgraduate courses both in conventional and emerging areas, 14 of its Departments are recognized as Research Centers offering PhD/M.Sc (Engineering by Research) degrees in Science. The institute takes a legitimate pride in having produced more than 40,000 thousand competent engineers who serve the country and also in different parts of the world.
Academic Performance:
It is gratifying for the management that presently more than 350 research scholars are pursuing their PhD Degree in BMSCE Research Centre's. BMSCE is one of the most preferred destinations for the students from across the country. The immense popularity of the college can be attributed to factors such as the quality education, infrastructure, pragmatic teaching-learning practices as well as focus on fulfilling the industry. Currently about 5000 students are pursuing their higher studies in BMSCE.
The College is committed to promoting professionalism and corporate values among the students as well as teaching faculty. The classrooms and labs of the college are best-in-class, well equipped and sophisticated. The labs are regularly upgraded in order to stay advanced. The campus is Wi-Fi enabled with 24×7 internet facilities in the departments and hostels.
The faculty members are the real strength of the institution. They are well qualified, meritorious, experienced and highly dedicated, who are driven towards academic excellence, research and innovation.
Vision:
Promoting Prosperity of mankind by augmenting Human Resource Capital through Quality Technical Education & Training.
To emerge as a most preferred destination for all corporates to hire globally component and ethically strong engineering talent.
Placement Highlights: 
The placement cell is known as the center of excellence. The placement cell is the nodal center and an integral part of the institution. The Institution firmly believes that placements are the major benchmark to the performance of the institute. The Centre has very active linkages and collaborations with industry. More than 300 reputed National and Multinational companies visit our institution for campus recruitment annually.
The vital roles of the Centre is to groom and shape the students and make them industry ready by imparting necessary skills and training. The Centre provides value added services like personal interview, analytical, quantitative, reasoning, mock tests, and team spirits and enterprise dynamics as part of their preplacement training.
Proud Alumni:
It is a matter of great pride BMSCE that its students are bringing laurels by excelling in various walks of life, such as
Research & Development:
R&D Center plays very crucial role in branding any institution. The job often involves in identifying new research areas, developing projects leading to publications in National/International Journals and conferences. R&D department at BMSCE is constantly engaged in promoting Research & Innovation among the faculty & students. The center helps in developing co-operative and complimentary research among various Departments under BMSCE to explore advanced technologies.
REVA Universit, Bengaluru
The REVA University spread over sprawling 45 acres of land in the heart of the garden city of India is a prestigious private state University that houses many multi-department, an incubation center for the start-ups, hostel and medical facilities. Presently, over 18,000 of students are pursuing different courses.
The University offers 33 full-time undergraduate courses with excellent facilities to have a complete learning experience. The 24 full-time and 2 part-time postgraduate programs offer an in-depth understanding of the chosen area of study to the students. Postgraduate programs give emphasis on practical knowledge and placements.
It is hearting to note that the University was ranked 48 in top 50 B-Schools by Chronicle India Survey 2019. A graded institute in Karnataka as per the survey by Chronicle India Survey 2019. REVA University ranked 20th under top 70 Engineering Institutes.
REVA University ranked Gold in QS I∙GAUGE rating as well.
Ranked 14th in the Outlook-ICARE India University Rankings 2019: Top 25 Young Universities.
Ranked 11th under 50 Top Private Engineering Institutes.
Ranked 21st under Karnataka University Ranking 2019.
REVA University ranked 30th position in the country in the India's Top 50 Engineering Colleges Survey 2020 published by The ACADEMIC INSIGHTS
It was also awarded the Most Preferred University, providing global environment to international Students at Global Indian Business Excellence Awards, UK. LEED INDIA NC PLATINUM 2013 Certification IGBC for the Administrative Building of the University.
Vision –The vision of the University is the reflection of the dedication of the Founder and Chancellor of REVA University Dr. P. Shyama Raju, who believes in knowledge as the true weapon for social change.
''REVA University aspires to become an innovative university by developing excellent human resources with leadership qualities, ethical and moral values, research culture and innovative skills through higher education of global standards".
Academic Performance:
The University stands out for providing conducive environment to the learners for achieving academic excellence. Excellence at REVA is defined as preparing students for facing the challenges and vicissitudes of life. This is the reason the students of this University develop broad outlook and global mindset. They are capable to adapt to any situation in life.
Placement Performance: 
The Training & Placement (T&P) is one of the most committed placement cells among the private Universities in Karnataka. The cell consist of highly qualified members having vast industry experience. They have excellent networks with the potential employers who visit the campus on a regular basis. Before the arrival of the companies, the placement cell functions on war footing and meticulously prepares the candidate on area such as aptitude test, mock interview, Group discussion and soft skills. As a result of the collective efforts of both students and faculty, REVA boasts of an excellent placement every year.
Conclusion 
"Education is the great engine of personal development. It is through education that the daughter of peasant can become a doctor, that the son of a mine worker become the head of the mine, that the child of a farm workers can become the president of a great nation."
The above inspiring words from Nelson Mandela's biography "Long Walk To Freedom"  have universal relevance. It is a proven fact that education is the only industry that has the potential to make human society more human. Many accuse that education sector has become a business today. But our society must not forget that education is the business of teaching people not just to make a living but also how to live life large.

Also Read: Top Universities in India, Top MBA Colleges in India & Top Engineering Colleges in India