IIT-Madras Launched an e-Mobility Course for Working Professionals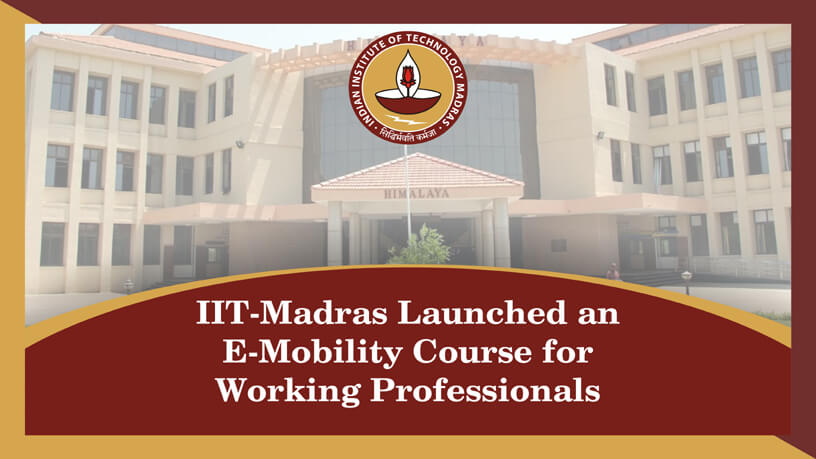 Updated:September 17, 2022, 7 months
IIT- Madras has started an e-mobility course for the working crowd. Applicants can register for this course till 30th September. students can get admission based on the first-come-first-served. Applicants join the batch on 2nd October 2022.
This certificate program is divided into 9 modules and 4 modules will be handled by industry experts. This course will be updated as per the industry trends and requirements.
Center for outreach and digital education (CODE) will offer this certificate program. This course will outline power electronics, battery engineering thermal management, etc.
V. Kamakoti said the institute introduced this course last year as a dual degree for B. Tech and EV engineering. industry personnel spoke about upgrading the skills of prevailing works to meet the demand of the current era. The first batch will commence on Oct.2nd.The fees of the Course is Rs. 1,50,000 + 18% GST.
"We are launching this program to address the needs of the various working professionals across industries and departments," Professor Mr. Kamakoti said and added that the institute planned to increase using advanced technology for professionals who need flexibility and relevance".
Devendra Jalihal, chairman of CODE, said the course had advanced the engineering requirements, looking for a well-designed overview including several aspects of e-mobility in product development.
This course contains 120 hours of video classes and 40 hours of lessons with faculty. Assignments and final assessments are also obligatory to receive the certificate.
Modules Covered during the course
MODULE-1: Economics and Ecosystem in e-Mobility
MODULE-2: Vehicle Engineering and Development
MODULE-3: Vehicle Dynamics and Control
MODULE-4: Powertrain and Fuels
MODULE-5: Power Electronics and Motors
MODULE-6: Battery Technology
MODULE-7: Materials for e-Mobility
MODULE-8: Thermal Management for Electric Vehicles
MODULE-9: Electromagnetic Compatibility for Electric Vehicles
Details of the course are available at https://elearn.nptel.ac.in/ applicants also write to support-elearn@nptel.ac.in.