CUET UG 2022 Exam will be Organized in Two Phases; CUET Phase 1 Admit Card is out! UGC Chairman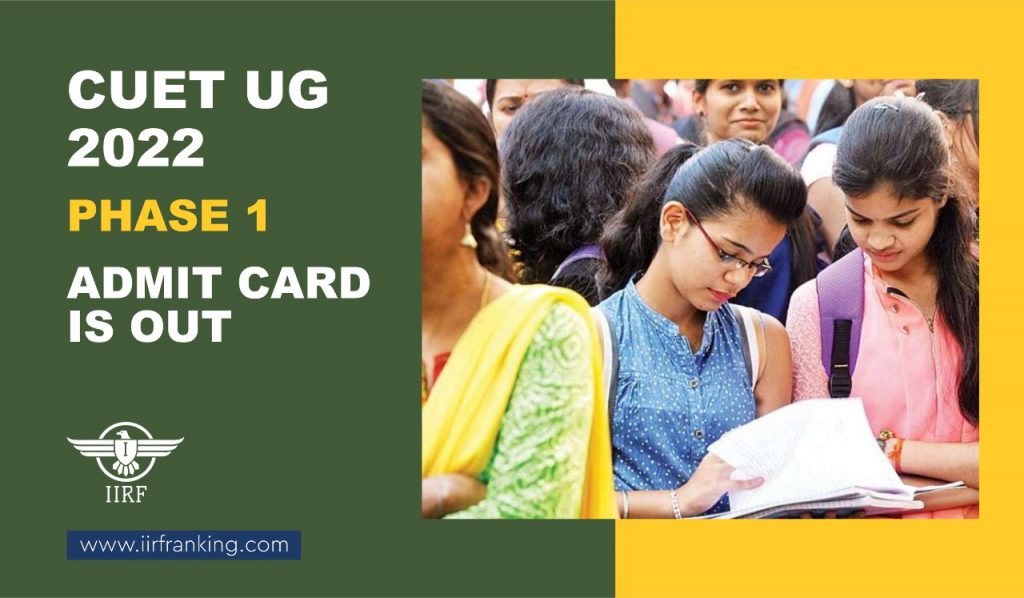 Updated:July 13, 2022, 9 months
CUET 2022 exam is set to begin within a few days for UG admissions. M Jagadesh Kumar, the Chairman of UGC, has shared updates regarding the CUET UG Exam. According to the UGC chairman, the exam will be organized in two phases, and the admit card for the Phase 2 exam will be displayed on CUET's official website by the end of July. Check the details below.
Common University Entrance Test CUET UG 2022 is organized within a few days. CUET Phase 1 exams will start from July 15, 2022, onwards. The UGC Chairman has shared some important pieces of knowledge just before the exam.
On June 26, 2022, NTA officially released the CUET UG entrance exam dates. According to the official notice, CUET will be on July 15, 16,19, and 20 from August 4 to 1, 2022. UGC Chairman has officially declared that CUET 2022 will be conducted in two phases.
CUET Phase 1 Admit Card is out! (Download the admit card)
CUET UG Exam phase 1 will start from July 15, and for the phase 1 exams, the admit card is released on the official website; the registered candidates can download the admit card from the CUET official website, www.cuet.samarth.ac.in. CUET UG 2022 exam is conducted in 500+ cities in India and 10+ outside India.
Some of the CUET Exam Centres
State
City
Gujarat
Ahmedabad
Gandhinagar
Godhra
Mehsana
Rajkot
Surat
Vadodara
Vapi
Uttar Pradesh
Allahabad
Lucknow
Varanasi
Agra
Gorakhpur
Meerut
Prayagraj
Punjab
Amritsar
Bathinda
Chandigarh
Ludhiana
Patiala
Jalandhar
West Bengal
Asansol
Kolkata
Siliguri
Karnataka
Bengaluru
Bidar
Davaagere
Hubli
Kalaburagi
Mangalore
Mysore
Raichur
Yadgir
Belagavi
Bellary
Rajasthan
Ajmer
Bikaner
Jaipur
Jodhpur
Kota
Sikar
Udaipur
Jaisalmer
Barmer
Bihar
Begusarai
Bhagalpur
Gaya
Muzaffarpur
Patna
Purnia
Siwan
Motihari
Madhya Pradesh
Bhopal
Indore
Jabalpur
Odisha
Bhubaneshwar
Brahmapur
Sambalpur
Kerala
Calicut
Kalpetta
Kannur
Kasaragod
Kochi
Kottayam
Palakkad
Thrissur
Tamil Nadu
Chennai
Coimbatore
Madurai
Thiruvarur
Tiruchirappalli
Uttarakhand
Dehradun
Jharkhand
Dhanbad
Jamshedpur
Ranchi
Assam
Guwahati
Haryana
Hisar
Mahendragarh
Telangana
Hyderabad
Jammu and Kashmir
Jammu
Kargil
Kathua
Leh
Srinagar
Udhampur
Maharashtra
Mumbai
Nagapur
Pune
Solapur
Delhi
New Delhi
Chhattisgarh
Raipur
CUET Exam Centers 2022 – Outside India
| | |
| --- | --- |
| Examination City | City Code |
| Bahrain | ZZ01 |
| Colombo | ZZ02 |
| Doha | ZZ03 |
| Dubai | ZZ04 |
| Jakarta | ZZ13 |
| Kathmandu | ZZ05 |
| Kuala Lampur | ZZ11 |
| Kuwait | ZZ10 |
| Lagos/ Abuja | ZZ12 |
| Muscat | ZZ06 |
| Riyadh | ZZ07 |
| Sharjah | ZZ08 |
| Singapore | ZZ09 |
8 Lakh 10 thousand students are participating in phase 1 CUET 2022, and nearly 6 lakh 80 thousand students are giving Phase 2 exams. The UGC Chairman also stated that for Phase 2 Exams, the admit card will be available on the official website www. cuet.samarth.ac.in on July 31, 2022.
The CUET Admit Card was released on July 12, 2022. The participants can download their admit card. On July 11, 2022, NTA ( National testing Agency) released exam city slips for 14 Lakh registered candidates.
UGC Chairman Spoke about
The UGC ( University Grants Commission) Chairman has boosted the participants' morale and encouraged them to focus on their exam preparations. He also gives his best wishes to 14 lakh+ appearing students.