20 Universities Declared Fake by UGC: The capital state leads in Corruption with 8; check the complete State-wise list here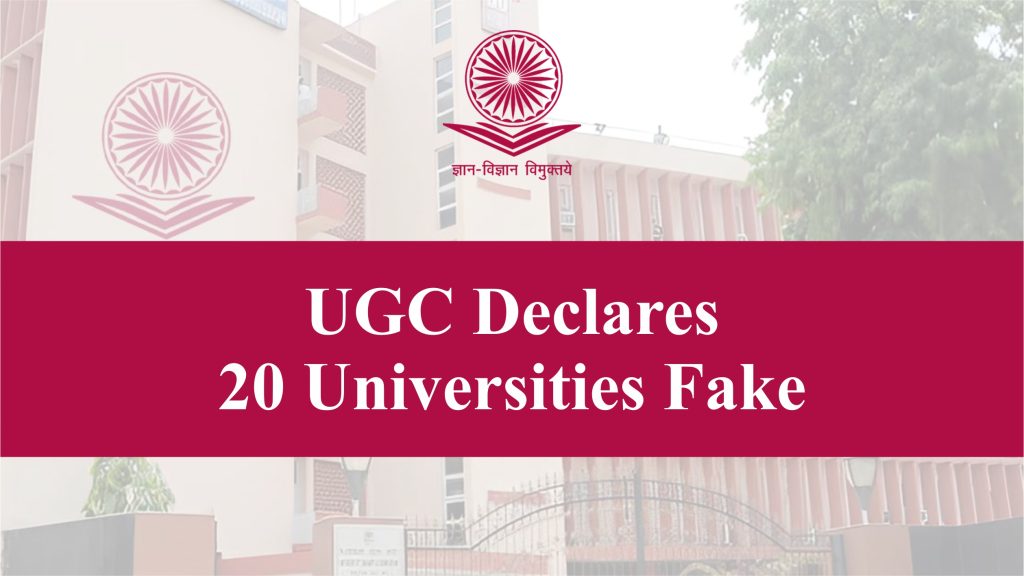 Updated: October 03, 2023, 11:51 AM IST
UGC Declares 20 Universities Fake: In anticipation of the forthcoming admission season, the University Grants Commission (UGC) has extended a crucial piece of advice to prospective students. They have urged individuals to explore the UGC's official website thoroughly. This proactive measure will empower students to differentiate between accredited universities and dubious entities, ensuring their enrollment in a legitimate higher education institution.
Read | Top Private Universities in India 2023: Rankings, Admissions, Placements & Courses
In a bid to uphold the sanctity of education, the UGC has made a special plea to students, urging them to share information about any university or institution operating against the guidelines of the UGC Act. By actively involving students in this process, the UGC aims to create a vigilant community, emphasizing the importance of collective responsibility in preserving the integrity of academic institutions across the nation.
What qualifies as a university?
As per an official notice released earlier, the University Grants Commission clarified that degrees can be granted solely by Universities/Institutions established under State, Central, or Provincial Acts or institutions duly empowered to confer degrees in accordance with the UGC Act, 1956.
Notice to fictitious universities
Addressing the vice-chancellors of alleged 'fake universities,' the Commission issued a letter outlining their institution's inclusion in the list of sham universities. The reason behind this categorization is the institution's failure to meet the standards defined in Section 2(f) or Section 3 of the UGC Act, 1956. Despite lacking the legal status of a 'University,' the institution has been engaged in the dubious practice of awarding degrees and employing the term 'University' in its name, thereby duping innocent students. This fraudulent behaviour has become a pressing concern as an increasing number of students are falling prey to these deceptive tactics.
Underscoring the issue of institutions operating in violation of the UGC Act, the Commission firmly stated that degrees issued by sham universities/institutions would have no legitimacy for further education or job prospects. The notice also demanded universities confirm within 15 days that they were not conferring any degrees, highlighting the urgency of addressing this matter.
UGC's list of fake universities as of September 2023
Refer to the table below for the complete list of state-wise fake universities.
| | |
| --- | --- |
| State | Names of Fake Universities |
| Andhra Pradesh | Christ New Testament Deemed University,  Guntur, Andhra Pradesh, Bible Open University of India, Visakhapatnam, Andhra Pradesh |
| Delhi | All India Institute of Public and Physical Health Sciences (AIIPHS) State Government University, Commercial University Ltd, Daryaganj, Delhi, United Nations University, Delhi, Vocational University, Delhi, ADR-Centric Juridical University, ADR House, New Delhi, Indian Institute of Science and Engineering, New Delhi, Viswakarma Open University for Self-Employment, Rozgar Sewasadan, Delhi, Adhyatmik Vishwavidyalaya (Spiritual University), Delhi |
| Karnataka | Badaganvi Sarkar World Open University Education Society, Karnataka |
| Kerala | St John's University, Kishanattam, Kerala |
| Maharashtra | Raja Arabic University, Nagpur, Maharashtra |
| Puducherry | Sree Bodhi Academy of Higher Education, Puducherry |
| Uttar Pradesh | Gandhi Hindi Vidyapith, Prayag, Allahabad, Uttar Pradesh, National University of Electro Complex Homeopathy, Kanpur, Uttar Pradesh, Netaji Subhash Chandra Bose University (Open University), Achaltal, Aligarh, Uttar Pradesh, Bhartiya Shiksha Parishad, Bharat Bhawan, Uttar Pradesh |
| West Bengal | Indian Institute of Alternative Medicine, KolkataInstitute of Alternative Medicine and Research, Kolkata |