JEE Main 2023 Session 1: Provisional Answer Key are out now, Know how to check and Challenge Answers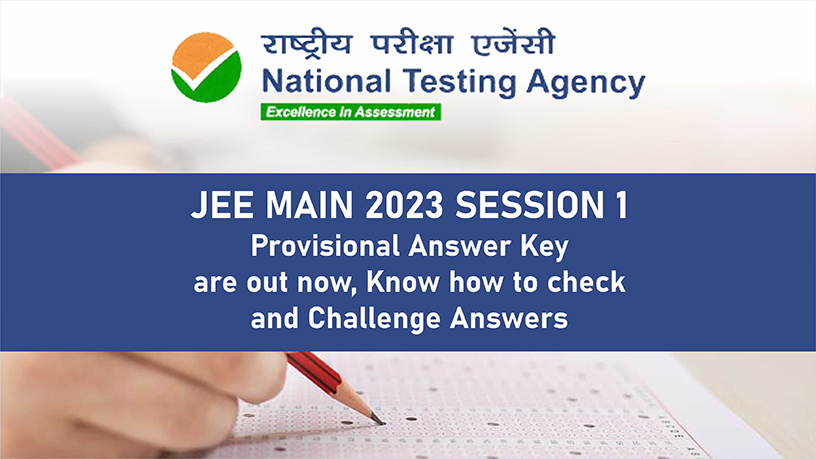 Updated:February 3, 2023, 7 months
JEE Main 2023 Provisional Answer Key: On Thursday night, the National Testing Agency (NTA) made the JEE Main Session 1 Answer Key available. Along with the provisional answer key, the agency also posted the question papers with recorded answers online. The provisional answer key is available for download at jeemain.nta.nic.in for candidates who took the exams in January.
The correct responses to the questions posed in session 1 will be included in the JEE Main 2023 answer key. Candidates will also have the option of contesting the JEE Main solution key. Additionally, they will have access to their JEE Main 2023 response sheets via the NTA's official website. As soon as session 1's shifts ended, numerous coaching facilities distributed the JEE Main 2023 January session unofficial answer key PDF.
The NTA declared this year's engineering entrance exam would be split into two sessions. JEE Main Session 2 registration will open on February 7, 2023, at jeemain.nta.nic.in. The second session of the JEE Main 2023 exam will be held on April 6, 7, 8, 9, 10, 11, and 12.
Steps to download the JEE Main 2023 Provisional Answer Key:
Step 1: Visit jeemain.nta.nic.in, the official website.
Step 2: On the homepage, select the link that says "JEE Main Session 1 Answer Key challenge"
Step 3: Candidates must enter their login information, which includes their application number and birthdate or password.
Step 4: The JEE Main answer key for the January session will now be visible on the screen.
Step 5: Check the Answer Key and download the page.
Step 6: Keep the saved page for further references.
Any candidate who is dissatisfied with the answer key may contest it for Rs 200 per question. The payment is non-refundable. Candidates must choose the "challenges regarding answer key" option, choose the paper they appeared for, and then choose the right response, in their opinion. They must upload any necessary supporting documents, which you can do by choosing "choose file" and uploading (every document must be in one PDF file). Once they have saved their claim, they should pay the fees.
Payment for the fees must be made either with a credit or debit card or through online banking. The deadline to submit challenges is February 4 at 7:50 p.m. The deadline to pay fees is February 4 at 8 p.m. The panel of subject specialists will confirm any challenges put forth by the candidates. The answer key will be updated and applied to each candidate's response in accordance if the challenge of any candidate is determined to be accurate. The final answer key will serve as the foundation for creating the outcome.