JEE Main 2023 Registration Live Update: Know About the Tentative Dates of NEET UG 2023 and CUET UG 2023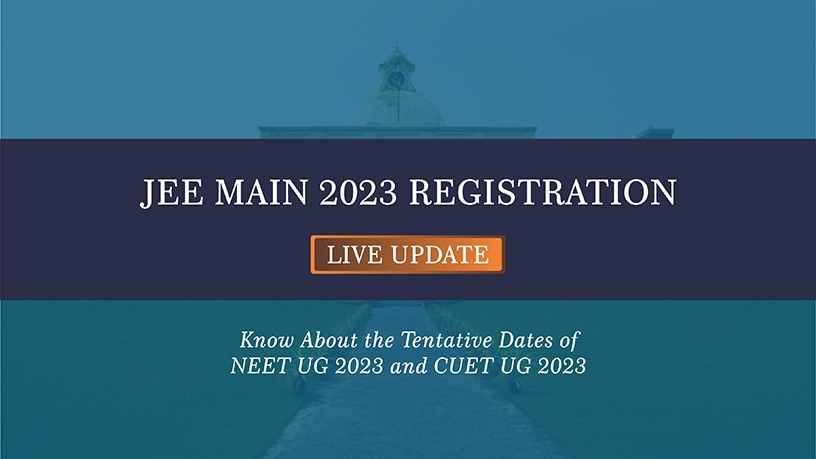 Updated:November 1, 2022, 3 months
The National Testing Agency (NTA) is quickly expected to start the application process for the Joint Entrance Examination (JEE Main 2023). The registration link is going to be active from the third week of November, and the students will have to apply for the first term of 2023.
Candidates must be aware that, similar to last year, there will be two sessions for the exams this year. JEE Main was held over the course of two sessions, the first from June 23 to June 29 and the second from July 25 to July 30. According to reports, session 1 of JEE Main 2023 will take place in January and session 2 in April.
Candidates may choose to participate in one of the two JEE Main 2023 sessions or both. The candidates' highest scores from either of the two sessions will be used to determine their overall ranks.
10,26,799 people applied to take the JEE Main in 2022, including those who attempted it in June and July. Up to 9,05,590 of these students showed up for the test. 24 applicants in total scored at the top of the class on the engineering entrance exam, earning a percentile score of 100.
JEE Main 2023 Eligibility Criteria
The students who have completed their 10+2 academic session in the years 2021 or 2022, along with the students who are going to appear in the 10+2 examination in 2023 with physics and math as their primary subjects, are eligible to apply for the exam.
JEE Main 2023 Expected Exam Pattern
The exam format for JEE Main this year is most likely to remain unchanged from last year's. The JEE Main will be split into two sessions in light of this. Multiple-choice questions (MCQs) will make up Section A, the required section, whereas questions that require a numerical value to be entered as an answer will be found in Section B.
Also Read | Top Entrance Exams in India 2022-2023
In the A section, each right answer will be worth four points, while each wrong answer will be worth one point less. Candidates are required to answer any five of the 10 questions in section B. There will be no negative marking for section B.
NEET UG 2023
With almost 18 lakh applications this year, NEET UG is still India's most popular entrance exam. In the meantime, registration for the National Eligibility Completion Entrance Test Undergraduate (NEET UG 2023) is anticipated to open in March. The applicants can visit the official website at neet.nta.nic.in to apply for this entrance examination once the dates are declared.
CUET UG 2023
The Common University Entrance Test (CUET UG 2023) registration process is reportedly set to start in February, per a number of media reports. The CUET exam is scheduled to be held in the third week of April.