CUET PG Answer Key 2023 Announced: Download Answer Key, Challenge Answer Key till July 15, and More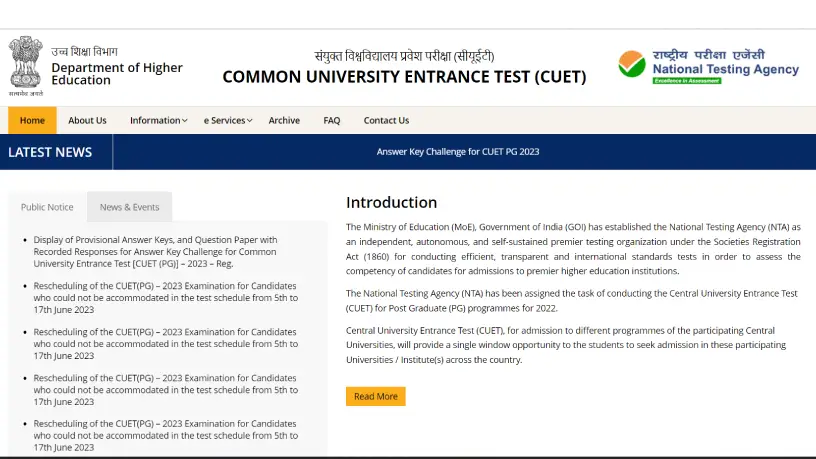 Updated: July 14, 2023, 02:24 PM IST
CUET PG Answer Key 2023: The CUET PG Answer Key 2023 was made available by the National Testing Agency (NTA) on July 13. The provisional answer keys, question papers, and recorded answers for the Common University Entrance Test-Postgraduate 2023 are now available for download from the official website at cuet.nta.nic.in for candidates who took the exam. NTA administered the CUET PG 2023 to approximately 8,76,908 candidates in 295 cities throughout India and 24 cities outside India from June 5 to June 17, 2023, and June 22 to June 30, 2023.
The official announcement states that "all candidates who appeared for CUET (PG) – 2023 to challenge" can access the Provisional Answer Keys, Question Papers, and Recorded Responses on the websites www.nta.ac.in and https://cuet.nta.nic.in.
Announcing the release of the provisional answer key for the CUET PG 2023 on Twitter, UGC Chairman Mamidala Jagadesh Kumar also provided additional information. He said in a tweet on Thursday that all candidates who took the CUET (PG) – 2023 exam could challenge the provisional answer keys, question papers, and recorded responses that would be made available on the websites nta.ac.in and cuet.nta.nic.in
Steps to Download CUET PG Answer Key 2023
Step 1: The official website can be found at cuet.nta.nic.in.
Step 2: On the homepage, click the link titled "Display of Provisional Answer Keys and Question Paper with Recorded Responses for Answer Key Challenge for Common University Entrance Test [CUET (PG)] – 2023 – Reg."
Step 3: Review the information in the PDF file that will now open on the screen.
Step 4: Return to the homepage and select "Answer Key Challenge for CUET PG 2023."
Step 5: After entering your login information, a new window will open on the screen.
Step 6: Examine the CUET PG 2023 answer key as it is displayed on the screen, and voice any objections you may have.
Step 7: Save the temporary answer key by downloading and keeping it on hand for future use.
CUET PG Provisional Answer Key 2023: Raise Objection
The candidates may contest the answer key if they pay a non-refundable processing fee of Rs 200 for each contestable question. Candidates have until July 15 at 11 PM to voice objections to the CUET PG provisional answer key. It should be noted that no challenge will be considered without payment of the processing fee. No other method of submission will be accepted for the Challenges.