Blog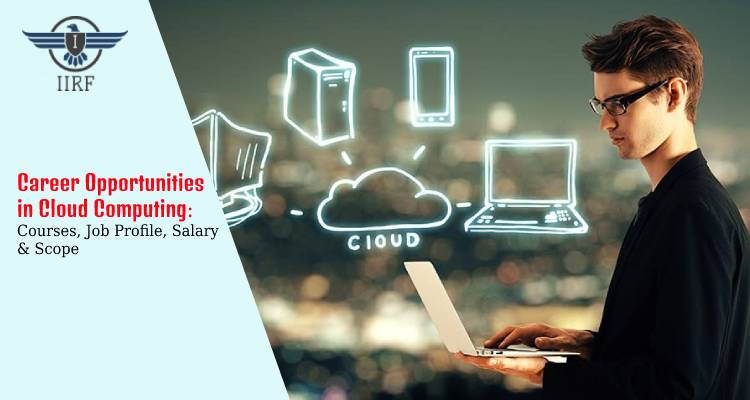 Career Opportunities in Cloud Computing: Courses, Job Profile, Salary & Scope
How to Build Your Career in Cloud Computing?
In today's IT world Scenario, Cloud Computing has won the race of being the most rapidly growing and demanding career domain. As per the 2021 statistics, 90% of the businesses around the world are bang on there on cloud computing. Did you know the global public cloud computing market will soon be going to cross USD 350 Billion? Yes, this is absolutely right, 2021 is the year for Cloud Computing. As per the recent business report, In Cloud services, almost the majority of the organizations have spent one-third part of the IT budget.
Cloud Computing has its own Kingdom and it is ruling in the market and it requires talented professionals with competency in cloud computing, we believe the above words are enough to prompt you to kick-off your career in an innovative career domain, Cloud Computing.
Now the million-dollar question, that must be going in your mind – How to make your career in this field? Right? Though, before knowing the pathway/roadmap that takes you towards Cloud computing, you must understand, What is an Umbrella term, Cloud computing.
What is Cloud Computing?
Cloud computing, in layman terms, can be defined as a technique of managing computing services such as data, servers, networking, storage, etc with the help of the internet, not using any physical storage for effective and superior functioning.
Many established companies and new players are undergoing a transformation, so there is an urgent requirement for cloud experts and IT staffers to come ahead and extract the biggest opportunity and outcome via the investment made by businesses by leveraging on the technology of cloud-based architecture.
What are the Job Profiles in Cloud Computing?
Are you familiar with the unmet demand for the recent technology, Cloud computing skills in the present job market? , but have you ever think how one can forge your career in this profile? There are varied Job Profiles in Cloud Computing:
Cloud Consultant
Cloud Infrastructure Engineer
Cloud Reliability Engineer
Cloud Security Engineer
Cloud Architect
Data Science Engineer
Devops Cloud Engineer
There are three major platforms to learn about Cloud Computing:
Amazon Web Service
Microsoft's Azure
Google Cloud Platform
What skills one need for building career in Cloud computing?
As per today's market demand, you must the below skills to kick-off your career in Cloud Computing:
Machine Learning and Artificial Intelligence
Cloud Migration and Deployment
Database Skills
Serverless Architecture
Programming Languages
DevOps
System/Platform Architecture
Cloud Computing Job roles and Recent Openings in different Verticals
The latest report says, in the last three years the job search of cloud computing in one of the top portals, Indeed. com is shoot up to 33)%, now there is more availability of cloud computing jobs: let's check out the job openings in cloud computing market:
Cloud Architect: Approximately, the job openings for this role is rise to 6.21%
Cloud Engineer: Approximately, the job opening for this role has shoot up to 3.61%
Full-Stack cloud Developer: In this role, the job openings has raised up to 4.19%
Development Operations Engineer: In this role, almost 5.99% of job openings are there.
Cloud Service Developer: 3.0% job availability is there.
Information Technology Architect: 7.92% job opening is found in this profile.
Cloud Network Engineer: Approximately, 2.0% Job opening is there for this role.
Top 5 Highest Paying Cloud Computing Jobs
Did you know why today cloud providers have achieved heights of success? The reason is now all the Modern Businesses are starting adopting the innovative software, Infrastructure as a Service ( IaaS), Software as a Service ( SaaS) and Platform as a Service ( PaaS) as per their business need and requirement.
Have you heard about IBM has done the acquisition of RedHat, this is called a Competitive cloud player. On the other hand, the popular cloud providers are taking an initiative to enhance their cloud features by implementing the technology of Machine Language ( ML ) and Artificial Intelligence (AI) with the cloud.
Here is the list of Top 5 Highest paying Cloud Computing Jobs:
Entry Level Salary: 49,740 USD
Top Earning : 72,123 USD
Cloud Reliability Engineer:
Entry Level Salary – 64,214.01 USD
Top Earning – 1,04,965 USD
Cloud Infrastructure Engineer:
Entry Level Salary: 72,730 USD
Top Earning : 1,49.159 USD
Entry Level Salary: 67,918 USD
Top Earning : 1,14,965 USD
Cloud Security Architect:
Entry Level Salary: 74,095 USD
Top Earning : 1, 29, 6660 USD
Bottom Line
So, now you have learned about Cloud computing. For building a career in Cloud Computing you need to get admission in a full-fledged degree course, or PG Diploma or can take certification on some high-demand cloud course or its relevant field. But before that, learn about the pros and cons of cloud computing
Frequently Asked Questions
What are the top cloud service providers?
Amazon Web Services (AWS)
Microsoft Azure
Google Cloud
Alibaba Cloud
IBM Cloud
SAP
Salesforce
VMWare
Oracle
Rackspace Cloud
What is the best AWS ( Amazon Web Service) Certification?
To grab career opportunities in cloud computing, you have to get AWS certification, from here you can take additional levels of certification:
Associate level
AWS Certified Developer
AWS Certified Solutions Architect
AWS Certified SysOps Administrator
Professional level
AWS Certified Solutions Architect
AWS Certified DevOps Engineer
Speciality Certifications
AWS Certified Security
AWS Certified Advanced Networking
AWS Certified Big Data
How long will take to you to get learning about cloud computing?
It depends upon your current skills and learning about cloud computing. If you want to acquire a professional degree in cloud computing, you need to take admission in 4 year degree program in cloud computing. Or you can go for a two and a half years accelerated program.
What is the role of Cloud Architect?
The work of a cloud Architect is to be accountable for deploying and overseeing for the computing strategy built in the society. The role of the Cloud Architect is to make cloud adoption plans, design work, cloud management and monitoring.